This article is about the 2016 film. For the game, see Angry Birds. For other uses, see Angry Birds (Disambiguation).
The movie is now playing in theaters!
The Angry Birds Movie is an upcoming 2016 American 3D CGI-animated action-adventure comedy movie adaptation on the Angry Birds series of video games and is scheduled for release in theaters in 3D & REAL D 3D May 20th, 2016. The film will be presented by Columbia Pictures and Rovio Animation, in association with Village Roadshow Pictures (Uncredited) and LStar Capital, CGI-animated at Sony Pictures Imageworks, Vancouver, BC, and financed by Rovio Entertainment. In Finland (Where Angry Birds originally created), it was distributed by Walt Disney Studios Motion Pictures.
Synopsis
The movie takes place on Bird Island, an untouched paradise inhabited by birds who are naive and innocent, who know nothing of the outside world. They treasure eggs above all else, and are all carefree and easygoing, except for few.
One of these birds is Red, a societal outcast who has had anger issues from the very beginning. Eventually, his outbursts become too much and he is sentenced to anger management courses, where he meets other misfit birds with similar problems.
The birds are suddenly visited by green pigs, who are dumb but funny. The birds and pigs quickly befriend each other, but Red does not trust the pigs at all. Ultimately, the pigs reveal their true colors, and leads to Red leading the entire flock in a "maddening" frenzy of rightful revenge as well as finding the right means of dealing with rage.
Plot
SPOILER ALERT!
The following information contains spoilers with important plot and/or ending details. To view them, click the [show] tag for your own risk.
---
Bird Island is an island inhabited by flightless birds. Red is running through the forest in a hurry to get somewhere with a wooden egg. Red is revealed to be a reclusive, grumpy red bird outcast prone to hissy fits. He is a clown whose job is to entertain newly hatched birds. After failing his latest client because of his temper, he is sent to bird court where the honorable Judge Peckinpah, who stands on another bird named Cyrus and covers him with a robe, sentences Red to anger management class. The class is taught by Matilda who was an angry bird herself. Among the birds in the class are Chuck, a fast yellow bird who caused problems with a bird cop, Bomb, a gentle black bird who tends to literally explode whenever he gets surprised or upset, and Terence, a giant red bird who only growls. The class fails to improve Red's attitude and he attacks a sign made by Chuck.
One day, while taking the class, Red and the other birds in his class are informed by Stella that "Something's coming!" to the island, which turns out to be a large boat. A pig named Leonard and his smaller assistant, Ross, arrive from the boat and say they are from Piggy Island. Leonard greets the birds and claims to be a peaceful explorer and brings offerings of friendship. They are immediately accepted on the island, as more and more pigs begin to arrive at the island, without hesitation from the birds, except Red.
Eventually, the pigs adjust to society. After Red asks Leonard if he's actually an explorer, why the pigs are still on the island, and why more are coming. Peckinpah informs Red to steer clear of the pigs, refusing to believe his accusations about the pigs. He recruits Chuck and Bomb to help him find Mighty Eagle, a giant eagle who is said to be the protector of the island, and the only bird that can fly. After searching for a few days, they find his "Lake of Wisdom" on top of Bird Mountain and discover the Mighty Eagle. As Red attempts to tell Mighty about his suspicions about the pigs, the Mighty Eagle is revealed to be a lazy, boastful retired bird, who hasn't flown in years. Angry with Mighty, Red and his friends leave after Red sees the pigs planting TNT around the island and they discover that Red's suspicion of the pigs was correct as they are stealing the birds' eggs while the residents are distracted by a party started by the pigs far from the village. After discovering that the pigs are stealing every egg on the island, Red and Bomb attempt to retrieve the eggs while Chuck runs to alert the rest of the island's residents about the theft-in-progress. Red and Bomb fail to stop the pigs, who leave in their boat and in the process, the TNT destroys the village. When the birds arrive on the beach the following morning, Peckinpah apologizes to Red for not listening to him. Seeing the depressed birds, Red rallies them to let their anger loose for once, and set sail for Piggy Island in order to retrieve the stolen eggs.
The birds construct a boat from the supplies left behind by the pigs, set sail and eventually land on Piggy Island. The pigs are revealed to live in a walled city, with a giant castle in the centre. After Red sees a painting of Leonard wearing a crown by the castle entrance, he realises that Leonard is the pigs' king, and that the eggs are most likely in the castle. Using the giant slingshot, the birds attack the pigs by slinging birds such as Hal and Bubbles at them, but fail to reach the castle. Red, Chuck, and Bomb make it to the castle, and find that the eggs are in a boiler room to be cooked and eaten by the pigs. The trio manage to enter when Chuck defeats the guards.
Before they can save the eggs, Red is captured by "Leonard", who reveals his real name "King Mudbeard" and threatens to boil Red. Chuck and Bomb manage to enter the room, and Mighty Eagle flies in (having seen the conflict from Bird Island and deciding to help, having felt guilty after Red had earlier told him he used to look up to him) and tries to carry the eggs out. As the birds escape, a blue egg falls out, making its way back into the castle. Deciding to risk his life, Red goes to save the egg from Leonard and eventually floods the castle with the boiling liquid the pigs were using to cook the eggs. Red outsmarts Leonard and takes back the egg, leaving the King and the entire pig island to be destroyed with TNT in the castle basement that the pigs had used during their heist, taking refuge in the giant overturned pot the eggs were going to be cooked in. After the explosion, the birds mourn the "loss" of Red, but he emerges with the egg (which has hatched, revealing three blue birds) and is hailed a hero. When approached by Mighty Eagle, the giant bird claims that he isn't really lazy and made Red, Chuck And Bomb lose faith in him to teach them to find faith in themselves.
Later, the birds appear to give Mighty Eagle all the credit for the egg rescue, Red humbly takes it in stride. However, he discovers that the birds have rebuilt his house as a sign of gratitude and Red decides that it would be better in life to be part of a community.
During the credits, it is revealed that all of the pigs have survived, while Leonard is hatching a new plan to steal the eggs. In a mid-credits scene, Jay, Jake, and Jim use the slingshot to launch themselves out to sea.
Cast
Tituss Burgress - Photog (Pig With Camera)
Max Charles - Bobby
Jillian Bell - Bobby's Mother
Cristela Alonzo - Shirley
Danielle Brooks - Crossing Guard Bird
Romeo Santos - Early Bird
Hannibal Buress - Foreman Pig
Ike Barinholtz - Edward
Jade Pettyjohn - Hatchling
Grant Palmer - Hatchling
Brianna Gentilella - Hatchling
Samuel Faraci - Hatchling
Production
On May 15, 2013, it was announced that the film will be released on July 1, 2016, and will be distributed by Sony Pictures Entertainment.[4][5][6] John Cohen will be the producer while David Maisel will be the executive producer.[7][8][9]
The film was scheduled to be released on July 1, 2016, but in December 2014, it was moved up to May 20, 2016.
On May 20, 2015, it was announced that Jon Vitti will write the screenplay for the film, while Catherine Winder is also joining as a producer.[10]
On October 9, 2015, it was announced that Clay Kaytis & Fergal Reilly will be the directors.[11]
Unlock the Flock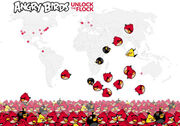 By every bird flung during the Sneak Peek Weekend and every share, Rovio would drop a bird on the www.unlocktheflock.net website, which counts as a "fling". For 1 Billion flings, they would release an exclusive surprise. It was a poster for The Angry Birds Movie.
Release
The official teaser trailer for this feature is first debuted on September 23rd, 2015 on YouTube, and it is attached theatrical releases of Goosebumps (2015), later prints of Hotel Transylvania 2, and Lionsgate/Splash Entertainment's Norm of the North. Although Goosebumps is presented in Widescreen Scope, the preview has black bars surround them at the left and right sides of the screen. It was also seen on Sony Pictures Home Entertainment DVD releases of both volumes of Angry Birds Toons: Season Two, the Complete First and Second Seasons of Angry Birds Stella, and the Complete First and Second Seasons of Piggy Tales, and on the Blu-Ray/DVD releases of Hotel Transylvania 2, Goosebumps, and the DTV feature, Open Season: Scared Silly.
The official theatrical trailer is first debuted on January 26th, 2016 on Facebook, and it is attached to the theatrical releases of DreamWorks' Kung Fu Panda 3 and Disney's Zootopia. Both films is presented in Widescreen Scope, so the preview is presented in a same way as the theractical release of Goosebumps.
The third and final trailer has debuted on April 12th, 2016 on the article on Entertainment Weekly then on YouTube, and it is attached to the theatrical releases of Gramercy Pictures' Ratchet & Clank (2016) and Marvel Studios' Captain America: Civil War. Just like Goosebumps, Kung Fu Panda 3, and Zootopia, it was in Widescreen Scope, and the preview is presented the same as those films.
Reception
Critical response
On Rotten Tomatoes the film has a rating of 51%, based on 82 reviews, with an average rating of 5.2/10. The site's critical consensus reads, "The Angry Birds Movie is substantially more entertaining than any film adapted from an app has any right to be -- which may or may not be much of an endorsement."[12] On Metacritic the film has a score of 38 out of 100, based on 13 critics, indicating "generally unfavorable reviews". [13] On IGN, it has the score of 7.6 out of 10, including the big Pro: The Big Finale. On Flicks And The City, it got the 3 out of 5 flicks.
Box office
Current box office sales: $43,000,000.
Internationally, it opened with $43,000,000, and counting.
In the United States and Canada, The Angry Birds Movie is set to open on May 20, 2016 alongside Neighbors 2: Sorority Rising and The Nice Guys and is projected to gross $40–45 million during its opening weekend.[14][15]
Soundtrack
For the official soundtrack, see The Angry Birds Movie (Original Motion Picture Soundtrack). The original score has been composed by Heitor Pereira (Minions), and will feature new songs from Blake Shelton, Demi Lovato, Charli XCX, Steve Aoki, and more.
Titles and Release Dates in other countries
Country
Title
Release Date
Belgium
Angry Birds Le Film
May 11, 2016
France
Angry Birds Le Film
May 5, 2016

(premiere in Paris)

May 11, 2016

Iceland
???
May 12, 2016
Philippines
The Angry Birds Movie
May 11, 2016
Argentina
Angry Birds: La Película
May 12, 2016
Australia
The Angry Birds Movie
May 12, 2016
Austria
Angry Birds Der Film
May 12, 2016
Bahrain
أنجري بيردز الفيلم
May 12, 2016
Bolivia
Angry Birds La Película
May 12, 2016
Brazil
Angry Birds: O Filme
May 12, 2016
Cambodia
កំហឹងបក្សី‬
May 12, 2016
Chile
Angry Birds La Película
May 12, 2016
Colombia
Angry Birds, La Película
May 12, 2016
Croatia
Angry Birds Film
May 12, 2016
Czech Republic
Angry Birds ve filmu
May 12, 2016
Denmark
Angry Birds Filmen
May 12, 2016
Germany
Angry Birds Der Film
May 12, 2016
Greece
Angry Birds Η Ταινία
May 12, 2016
Hungary
Angry Birds A Film
May 12, 2016
Israel
אנגרי בירדס
May 12, 2016
Iraq
أنجري بيردز الفيلم
May 12, 2016
Jordan
أنجري بيردز الفيلم
May 12, 2016
Indonesia
The Angry Birds Movie
May 12, 2016
Kuwait
أنجري بيردز الفيلم
May 12, 2016
Lebanon
أنجري بيردز الفيلم
May 12, 2016
Malaysia
The Angry Birds Movie
May 12, 2016
New Zealand
The Angry Birds Movie
May 8 2016 (Premiere)

May 12, 2016

Oman
أنجري بيردز الفيلم
May 12, 2016
Peru
Angry Birds: La Película
May 12, 2016
Qatar
أنجري_بيردز_الفيلم
May 12, 2016
Russia
Angry Birds в кино
May 12, 2016
Serbia
Angry Birds Film
May 12, 2016
Slovenia
Angry Birds Film
May 12, 2016
Slovakia
Angry Birds Film
May 12, 2016
Switzerland
???
May 12, 2016
Syria
أنجري_بيردز_الفيلم
May 12, 2016
Thailand
แองกี้เบิร์ด เดอะมูฟวี่
May 12, 2016
Ukraine
Angry Birds У Кіно‬
May 12, 2016
United Arab Emirates
أنجري بيردز الفيلم
May 12, 2016
Uruguay
Angry Birds: La Película
May 12, 2016
Bulgaria
???
May 13, 2016
Cyprus
???
May 13, 2016
Ecuador
Angry Birds: La Película
May 13, 2016
Egypt
أنجري بيردز الفيلم
May 13, 2016
Estonia
أنجري_بيردز_الفيلم
May 13, 2016
Ethiopia
???
May 13, 2016
Finland
Angry Birds Elokuva
May 13, 2016
Kenya
???
May 13, 2016
Lithuania
Piktieji Pauksciai. Filmas
May 13, 2016
Latvia
???
May 13, 2016
Mexico
Angry Birds: La Película
May 13, 2016
Nigeria
???
May 13, 2016
Norway
Angry Birds Filmen
May 13, 2016
România
Angry Birds Filmul
May 13, 2016
South Africa
The Angry Birds Movie
May 13, 2016
Spain
Angry Birds: La Película
May 13, 2016
Sweden
The Angry Birds Movie
May 13, 2016
Turkey
Angry Birds Film
May 13, 2016
United Kingdom
The Angry Birds Movie
May 13, 2016
Venezuela
Angry Birds: La Película
May 13, 2016
Vietnam
Phim Angry Birds
May 13, 2016
Jamaica
Angry Birds: La Película
May 18, 2016
Dominican Republic
Angry Birds, La Película
May 19, 2016
South Korea
앵그리버드 더 무비
May 19, 2016
Canada
The Angry Birds Movie
May 20, 2016
China
愤怒的小鸟大电影
May 20, 2016
Netherlands
Angry Birds De Film
May 26, 2016
Singapore
The Angry Birds Movie
May 22, 2016 (Premiere)

May 26, 2016

India
The Angry Birds Movie
May 27, 2016
Poland
Angry Birds Film
May 27, 2016
Portugal
Angry Birds O Filme
June 1, 2016
Hong Kong
‪憤怒鳥大電影
June 2, 2016
Taiwan
憤怒鳥玩電影
June 8, 2016
Italy
Angry Birds Il film
June 15, 2016
Japan
アングリーバード
October 1, 2016
Gallery
For this film's image gallery, see The Angry Birds Movie/Gallery.
Videos
Trailers
TV Spots
Clips
Trivia
When the birds are launched from the slingshot, they tuck their legs under their wings, which gives their appearances a spot-on match to their game counterparts.
It appears the direct source of Red's anger and solitude was back in his early childhood:
He was always made fun of because of his abnormally large eyebrows, giving him the nickname "Eye Brow" (from the official theractical trailer).
In the games, Matilda drops explosive eggs while flying; but in this movie, she expels egg-shaped fireballs that explode on impact.
This marks the first appearance of Leonard.
All the birds except Bomb and Hal have their Toons designs, also Bomb is shown to have a tail in the movie.
In the film, Mighty Eagle can fly with his whimsical wings.
Although it has a rotten rating, The Angry Birds Movie is the highest rated video game movie on Rotten Tomatoes.
References
External links