This page is a stub article
This article is a stub. You can help Angry Birds Wiki by expanding it and adding more information as soon as possible, then removing the stub tag.
Cards are items that appear in Angry Birds 2. When you play a level, the first three cards appear at the bottom left of the screen with the other cards on the main deck faced down. The cards are the birds or spells that you will choose for the next shot. Choose one by tapping the first three cards, just like choosing the birds in Angry Birds Stella's pig sightings levels. However, it is used to attack the pigs.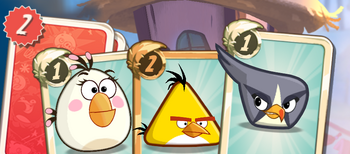 If the player runs out of them & there's still pigs remaining, they will either watch a video for a free bird once or be charged with

× 60 for additional 3 cards (For more than once, it will be multiplied by the number of time(s) to revive. Otherwise the level is failed and you lose a life.
Card Levels
Main article: Angry Birds 2/Score Multiplier Rank

As you level up a bird or spell, its card will change in appearance.
Vanilla
Bronze
Silver
Gold
Azure
Emerald
Amethyst
Diamond
Elder Bronze
Elder Silver
Elder Gold
Elder Azure
Elder Emerald
Elder Amethyst
Elder Diamond
Master Bronze
Master Silver
Master Gold
Master Azure
Master Emerald
Master Amethyst
Master Diamond
Pristine Bronze
Pristine Silver
Pristine Gold
Pristine Azure
Pristine Emerald
Pristine Amethyst
Pristine Diamond
Epic Bronze
Epic Silver
Epic Gold
Epic Azure
Epic Emerald
Epic Amethyst
Epic Diamond
Ancient Bronze
Ancient Silver
Ancient Gold
Ancient Azure
Ancient Emerald
Ancient Amethyst
Ancient Diamond
Mythic Bronze
Mythic Silver
Mythic Gold
Mythic Azure
Mythic Emerald
Mythic Amethyst
Mythic Diamond
Gallery