The Nest (Bird Arena)
The Nest is an online weekly tournament where players may challenge another randomly selected player. It will be unlocked at level 25 in single player campaign formerly, it was then requires at least Star Rank of 5 to enter the arena.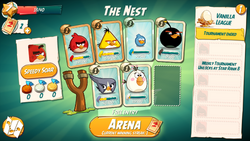 Players will enter against CPU players in arena until reaches at least a star rank of 8. Once fulfilled, they will start in the vanilla league and progress at the end of every week. Placing in the top 3 will promote to the next league; placing in the bottom 3 will demote to the previous league. If the player wins the arena, the stars will be rewarded according to the difference between the player and the opponent (with a maximum of 10), and the streak prizes. If the player loses, there will be no star rewards and streak progress will reset.
Consecutive wins in the arena will result in greater and greater rewards.
First win: 1 arena ticket
Second win: × 30
Third win: × 1
Fourth win: 2 arena tickets
Fifth win: × 100
Sixth win: × 1
Seventh win: × 500 (streak finale)
Each entry costs 1 arena ticket. The player can purchase additional tickets using

(However, free entries are available every 3 hours with an additional extra ticket by watching a video.)
Bird Hats
Bird Hat increases the multiplier score besides bird feathers. It can be purchased only by black pearls (

) and can be only be obtained by daily challenge or the weekly tournament. Collect all the full set to upgrade the slingshot score multiplier.















In short, if the bird rank is 3, and the hat is 2, it gives a multiplier of 6.
Red Hats
Chuck Hats
(Under Construction)
The Blues Hats
(Under Construction)
Bomb Hats
(Under Construction)
Sliver Hats
(Under Construction)
Matilda Hats
(Under Construction)
Terence Hats
(Under Construction)
In total, the players will need:
Profile Avatar
Players may customize their avatars using their Facebook profile picture or by unlocking new set of avatars by completing an area.
For a list of Profile Avatars, see Avatars.