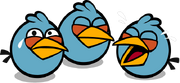 King Pig has stolen the Eggs, and there's no way to retrieve them, ever!
This article contains information about an abandoned project.
The content of the article or this section may have been scrapped during development from the game, characters, or other Angry Birds medias.
Angry Birds Ace Fighter

Current app icon
Info
Length (in levels):
70 (Chinese Beta Testing)

140 (Open Beta Testing)

Developer(s):
Publisher(s):
Siamgame Thailand, Koramgame
Rovio Entertainment
Released:
May 31, 2016 - July 20, 2016 (CBT)

July 27, 2016 - October 8, 2016 (OBT)

Platforms:
iOS, Android
Ratings:
ESRB: TBA
Genre:
Adventure, Shoot-em-up
Version(s):
Discontinued as of v1.1.10
[Version History]
Angry Birds Ace Fighter is an Adventure flying "shoot-em-up" game. It features graphics from Angry Birds Epic.
History
Discontinuation
On September 5, 2016, it was announced that the game would be officially discontinued on October 8, 2016 due to the adjustment of product structure platform. On September 6, 2016, the game was removed from the App Store and Google Play and recharge was turned off, making the game practically impossible to play without IAPs or hacking to get the VIP and recharge rewards. On October 10, 2016, the game servers was shut down.
If the player tries to play after the period, they are still be able to download the game data and get past into the tutorial screen. However they will be unable to play the server and the offline status is shown.
Gameplay
The game requires the player to control their plane by dragging on the screen. The main objective of this game is to defeat the pigs to score points. Some enemies may drop special powerups when defeated. If the player has taken too much damage and deplete health points, the game is over.
There are 3 revival chances if the player is knocked out. It will cost 10 diamonds for the first revival and 20 for the second and 30 for the last revival. They will get a power-up, invincibility, and a random power-up.
Drop Items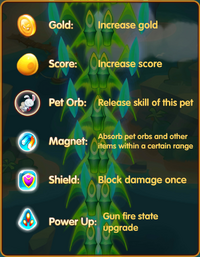 Gold: Self-explanatory.
Score: Get bonus points.
Pet Orb: Trigger the skills of the pet.
Magnet: Bringing the nearby powerups to the player.
Shield: Protects the player from taking damage. Once the player is hit by one of the bullets, it will be vulnerable to attacks.
Powerup: Increases the fire-power rate.
Rampage: Invulnerable to damage, and the aircraft speed increases.
Bird Launcher Orb: Activate Bird Launcher.
On Battle Screen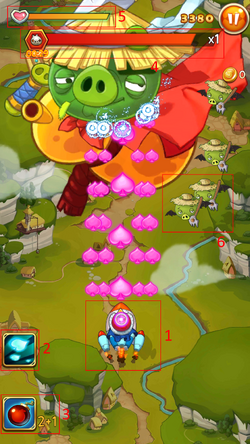 Your aircraft
Angry Mode (tap to switch into angry skill)
Super Skill Bomb (tap or double tap anywhere to activate the super skill)
Boss Health Bar (Boss remaining HP)
Your health bar (Player's remaining HP)
Monster Enemies
Left from pause button: Score
Notes
The Angry Mode and Super Skill Bomb will clear the attacks of the enemies.
Both skills have cooldown times in between each use, so use them wisely.
In some special stages, for example, bullets avoid stage and attacking defense team stages, both skills cannot be used.
For the special skill bomb, it can hold up to 3 per battle stage.
Pigs
For a list of pigs, see Angry Birds Ace Fighter/Pigs.
Characters
Playable birds
For a list on all the birds' skills, see Angry Birds Ace Fighter/Bird Skills
Non Playable birds
Stella (only appears in tutorial dialog boxes, visual audio effects and mail inbox)
Matilda (Loading screen, bird rising in Academy, Bird Launcher only)
Hal (Loading screen and Bird Launcher)
Energy

This shows the player's current energy level (which the max can be 999) and the player's intended max energy of 120. Energy can be gained via the following means:
Buying energy with diamonds (120 per purchase, also 1 stage skip item, max is 2 purchases at VIP0)
Leveling up (extra energy given depends on the player's current level)
Daily Gourmet (60 energy, obtained from 6:00 am to 12:00 pm, 12:00 pm to 6:00 pm and 6:00 pm to 12:00 am the following day)
Gifting to friends (4 energy)
The current energy can be exceed the maximum amount. However the energy stops recharging when it is more or equal to 120.
Game Currencies
Gold
This is the game's basic currency. It is used to pay for basic stuff. Gold can be obtained by:
The gold mine (at least 4000 gold)
Completing stages
Rewards
Decompose gear
Diamonds
Diamonds is the game's premium currency. It can be obtained by doing the daily tasks or buy paying a certain amount of real money (paying more real life money will yield a larger diamond output). It will increase VIP points.
As of September 6, 2016, recharging diamonds is no longer possible and unable to increase VIP Privileges.
For a list of VIP levels, see Angry Birds Ace Fighter/VIP.
Pet Gems

Pet Gems is the game's currency to buy pet's fragments, EXP potions and crystals in birds' shop and gear in trader. Can also be obtained by decomposing pets or pet's fragments.
Enhance Gems
Enhance Gems is the game's currency to upgrade gear. It can be purchased in General Shop, obtained from Trial Tower or by decomposing gear.
Main Menu

There are 6 menus at the bottom, mainly
Achievements
For this game achievements, see Angry Birds Ace Fighter/Achievements.
Gallery
For this subject's image gallery, see Angry Birds Ace Fighter/Gallery.
Videos
Trivia
This is the first 2016 Angry Birds game without movie graphics.
This is the third Angry Birds game to play with portrait orientation.
This is the fourth Angry Birds game that requires an internet connection in order to play the game.
Some of the sounds are noticeably re-used from Angry Birds Epic and Angry Birds Go!

Notable example: The Angry Birds Epic HP regeneration sound was used as a shield pickup sound.
The damage taken sounds was recycled mostly from Angry Birds Epic.

This game neither have its Toons.TV app nor redirect to the Toons.TV website due to being developed not by Rovio.
The device will vibrate when taking damage, just like Angry Birds Friends.
The stage, duet and endless league battles start similarly to Angry Birds Go!, uses the slingshot to launch the aircraft.
Some of pigs are re-used with older design (for example, King Pig is used with Toons design or older design).
Errors
In the login screen, when changing the server, the name is known as "sever 1". This was a typo error.
External Links
Ad blocker interference detected!
Wikia is a free-to-use site that makes money from advertising. We have a modified experience for viewers using ad blockers

Wikia is not accessible if you've made further modifications. Remove the custom ad blocker rule(s) and the page will load as expected.