Arena
In Arena mode, players may challenge another players in a ranked battle. They will challenge in choice of 3 players above their ranking.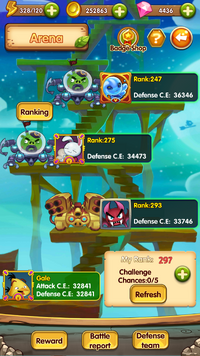 The C.E. is broken into two parts:
Attack C.E.: Your attack power.
Defense C.E.: Your monster's defense power.
From top to bottom:
Badge Shop: Purchase new defense monsters and new main bosses.
Ranking: View leaderboard arena ranking.
My Rank: Displays your arena ranking.
Challenge Chances: The remaining challenges before running out, additional 1 chance costs 10 gems.
Reward: View rewards arena ranking prizes.
Battle report: ??? (Unavailable)
Defense Team: Build your own defense team.
Battle
The player will be challenged in the defense team layout set by the opponent. This is the same as encountering a boss in stage battle. Players will be prohibited from using Angry Mode and Special Skill Bomb, and the only attacks are from Gun and Pet Skill attacks. The time allocated for 30 seconds to defeat the Main Boss Pig otherwise the player loses.
They will be rewarded with badges for every battle. It can be used to buy items in badge shop. If they win and climbed into a higher rank, they will be rewardrd eith diamonds sent into the mailbox.
Defense Team
Change your defense team, boss and monsters.
Some of the monsters or bosses requires fragments or a required VIP points. The auto assign can be selected to automatically adjust each monster's position. Previewing your defense team can be done by tapping preview team option.
Badge Shop
Purchase pets, pet's fragments, feathers, runes, soul fragments and monster's fragments using the badges earned. It can be purchased up to the limit weekly.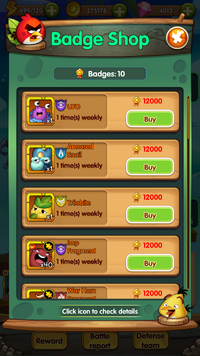 List of Arena Shop Items
Maximum number of times: 1
Cost: 12000 Badges
Maximum number of times:1
Cost: 12000 Badges
Maximum number of times:1
Cost: 12000 Badges
Maximum number of times:1
Cost: 12000 Badges
Ad blocker interference detected!
Wikia is a free-to-use site that makes money from advertising. We have a modified experience for viewers using ad blockers

Wikia is not accessible if you've made further modifications. Remove the custom ad blocker rule(s) and the page will load as expected.