Join a co-op battle with a teammate.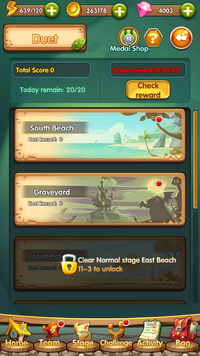 It shows the total score of the player, remaining chances for today, and check for rewards.
The rewards will tally at 2.00am GMT+8.
There are 6 stages:
South Beach
Graveyard
Cobalt Plateous
Snow Mountain
Pighead Mountain
Pig City
After deciding a stage, it will scan for the available rooms. If there are no rooms available, the player may refresh the list, create their own room or automatch. They may also search using the room ID.
When creating a room, it will bring up the create room dialog, choose the available stages, a name (up to 12 characters) for the room and an optional password, and the required minimum level for the teammate to enter the room.
Medal Shop
The player will be able to buy gear and its fragments in the medal shop.
The list will reset at 3:00am, 12:00pm, 4:00pm and 9:00pm GMT +8. The reset can be initiated manually with 3 chances.
Trivia
When the room was shown in the list, there is an image recycled from the original Angry Birds loading screen.
Ad blocker interference detected!
Wikia is a free-to-use site that makes money from advertising. We have a modified experience for viewers using ad blockers

Wikia is not accessible if you've made further modifications. Remove the custom ad blocker rule(s) and the page will load as expected.