The goal of this challenge mode is to survive as long as possible until the end of the chapter.
Players will be given 20 chances in the endless league. The total score will be shown next to the available chances.
The player will now choose which phase to start off with. The first phase will be free, and the remaining three phases will cost an additional respective phase ticket and coins.
To unlock Endless League, you must reach after Level 10.
In Battle
For a list of Chapters in Endless League, see Angry Birds Ace Fighter/Challenge/Endless League/Chapters.
Players will have a rampage headstart, last up to 3 stages. Defeat the boss to receive

. The game continues until the player is knocked out with no revive chances remaining (can be only be revived up to 3 times), chose not to revive within the revival countdown or reaches the end of the chapter. The number of

received will be sent into your bag.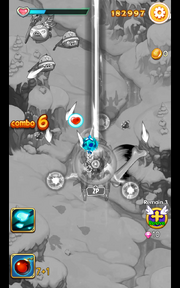 EL Pack
These packs are occasionally dropped by bosses killed in the endless league. The rank that the packs are given is dependent on the rank of the player, which will result in better rewards from the packs.
One

 (EL Pack) can be refilled by waiting for one hour or paying 20 gems by tapping
.
Note: This chest purchase dialog prompt has a language error bug despite the main language in English. From now on, the yellow option cancels the purchase and the green option purchases additional refills.
Team Rank
The team ranking can be viewed in a ranking level group.
Ad blocker interference detected!
Wikia is a free-to-use site that makes money from advertising. We have a modified experience for viewers using ad blockers

Wikia is not accessible if you've made further modifications. Remove the custom ad blocker rule(s) and the page will load as expected.