In tournament, players will be given a list of 9 CPU players to be completed with.
Rewards:
Every 1 win will be rewarded with a chest once.
Every 4 wins will be rewarded with a chest once.
Win all the CPU player battles to be rewarded with a chest.

It will list the opponents and their C.E.
Players have the other options of resetting the challenge. They may chose Auto Challenge if they want to.
The maximum chances allowed to challenge is 10, after reaches the limit, they will reset manually.
In battle screen
Fight will be auto battle, players may skip after some time period.
The player with the more remaining HP will be the winner.
Emblem Shop
Players may purchase items, pets, pet fragments, endless phase tickets and special skill bombs in the emblem shop. It requires emblems and/or pet gems.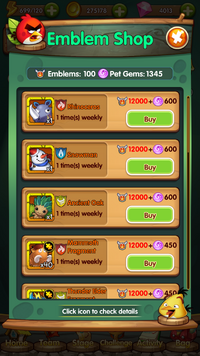 Ad blocker interference detected!
Wikia is a free-to-use site that makes money from advertising. We have a modified experience for viewers using ad blockers

Wikia is not accessible if you've made further modifications. Remove the custom ad blocker rule(s) and the page will load as expected.