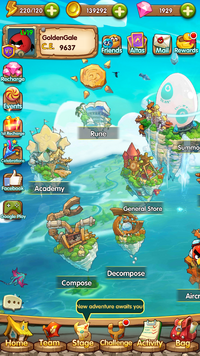 In the home screen, there are options the player is able to go to.
From top left to top right:
User Profile: Displays your profile picture, your name, your experience level, VIP level and your C.E. You may adjust the game settings from here.
Friends: A list of friends. The player is able to add/remove friends.
Altas: A collection of pets.
Mail: A mailbox to accept rewards from Stella, arena award ranking prizes and duel.
Rewards: Collect your rewards.
Recharge: Top-up diamonds using real cash. This will increase the VIP experience points.
Events: A list of active events. Includes discounts, daily month cards, etc.
Celebrations: A list of events to complete and get rewards. (removed in version 1.1.10)
Chat: Chat with the players in the server or your guild players.
From left to right:
Ad blocker interference detected!
Wikia is a free-to-use site that makes money from advertising. We have a modified experience for viewers using ad blockers

Wikia is not accessible if you've made further modifications. Remove the custom ad blocker rule(s) and the page will load as expected.