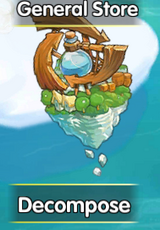 There are four ways:
Decompose pet: Scrap your pet in exchange for pet gems, experience potions.
Decompose gear: Scrap your gear in exchange for enhance gems and coins.
Pet birth: Give a birth to another pet. Cost 50 diamonds.
Rune rebirth: Reproduce another same rune. Cost 50 diamonds.
Gallery
Notes
Pet rebirth and rune rebirth works on some pets and runes.
In later versions, the design was changed in Decompose pet, Rebirth pet and Rebirth rune.
Ad blocker interference detected!
Wikia is a free-to-use site that makes money from advertising. We have a modified experience for viewers using ad blockers

Wikia is not accessible if you've made further modifications. Remove the custom ad blocker rule(s) and the page will load as expected.