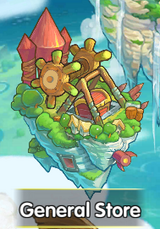 Players may buy items, VIP claim VIP Chests, Aircraft, Gun and Bird Launchers.
Aircrafts
Players may purchase an aircraft blueprint or a new aircraft.
Guns
Players may purchase a gun blueprint or a new gun.
Bird Launcher
Players may purchase a bird launcher blueprint or a new bird launcher.
VIP
Claim a respective level VIP rewards.
Items
Player may purchase EXP Pools, Enhance Gems, Crystals, Endless Phase tickets, Rune Fusion Gems, 3 star Rune Chest, Super skill Bomb.
Ad blocker interference detected!
Wikia is a free-to-use site that makes money from advertising. We have a modified experience for viewers using ad blockers

Wikia is not accessible if you've made further modifications. Remove the custom ad blocker rule(s) and the page will load as expected.