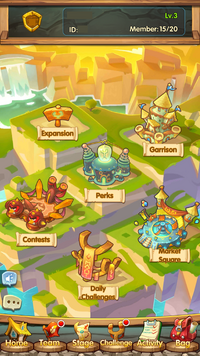 In guild, there are 6 places to go to:
Daily challenges: Complete daily challenges to earn a contribution score in the Guild contest.
Contest: View contest, encounters.
Perks: Buy items and consumables using contribution points.
Market Square: View and donate pet's fragments.
Garrison: View the the amount of rainbow crystals and roster.
Expansion: Expand your guild.
Daily Challenges
There are 5 random challenges to accept and complete by the player. After doing so, the game rewards to the player scores of the guild contest. It will fill the gauge meter of it.
Contests
Contest: Collect the wooden chest rewards in contest scored from daily challenges.
Challenges: Challenge the guild members. It can be challenged up to 3 members. At the end of each win, claim your rewards.
Rank: View ranking of the guild compared to the other guild.
Encounters: Challenge other guild members in specified time.
Perks
Some items can be bought for a limited number of time.