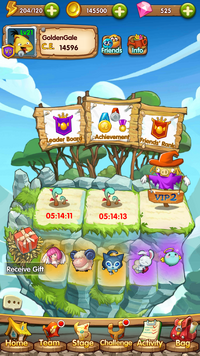 Homeland is a place to collect rewards and visit friends.
Send gifts to friends
Collect gifts from friends
Plant seeds
Collect rewards from completing achievements
Challenge friends via duel
Compare leaderboard scores
Water friend's plant
Get rewards by interacting friend's pet

To plant a seed, tap on a plot of land and choose 3 types of chest seed. Once grown, harvest by tapping a plot of land. Collect the rewards from Bag.
The third plow of land requires at least a VIP2.
Achievements
collect rewards after completing the achievements.