Ross forgot to fix his leftover parts!
Help out by adding missing information from reliable sources into this article.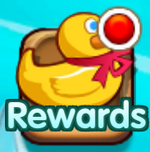 Login Days
On every login, players will get rewards as a daily bonus.
Sign up
Get rewards on every login. Required VIP level to claim double the rewards.
Half-month goal
Get rewards by doing tasks within a limited-time day goal.
Daily gourmet
Claim daily energy from the period of one time per 6 hours. Claim energy from 06:00-12:00, 12:00-18:00 and 18:00 00:00. If the player misses one of the period, requires 20 diamonds to claim the energy.
Gold Mine
Claim daily gold in a gold mine. Players will be required to spend 20 diamonds after claiming from gold mine once. VIP players will have increased chances. To unlock Gold Mine, you must reach after Level 13.
Exchange Code
This section is in the need of expansion.