Summon Pet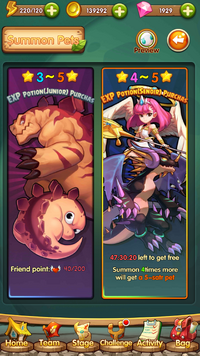 There are two ways to get a pet:
3-5 Star rating (Free)
4-5 Star rating (Purchase using diamonds)
Free summon will cost one summon token or 200 friend points. It will reward a junior exp potion, which is 100 Exp pool.
Summon using diamonds will cost diamonds. It can be summoned once or 10 times. Each summon costs 280 diamonds. It will reward a senior exp potion, yields 1000 Exp pool.
The player is able to view a list of pets in the preview screen by tapping the preview.
In newer version, players will have access to view recommended team.
Errors
There were notable typos in the pet summon screen. (Senoir, 5-satr and purchas)