View your profile.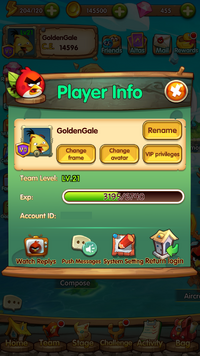 Rename: Rename your user. name.
Change frame: Change your frame. Frames can be unlocked by reaching arena ranking or a required VIP rank.
Change avatar: Change your profile avatar. More avatars can be unlocked by owning new parts or unlocking birds.
VIP privileges: Review your VIP level and accessible privileges.
Level: Your current level.
Exp: Displays experience points.
Account ID: Account identification number.
Watch replays: Watch a replay cutscenes.
Push messages: Turn on or off push notifications.
System settings: Adjust settings.

VIP2 players may change the quick combat in Tournament settings.

Return login: Logoff to the main screen.
Errors
In the earlier version of the v1.0.5, the Watch Replays is spelled as 'Watch Replys". This is a typo error.
Ad blocker interference detected!
Wikia is a free-to-use site that makes money from advertising. We have a modified experience for viewers using ad blockers

Wikia is not accessible if you've made further modifications. Remove the custom ad blocker rule(s) and the page will load as expected.