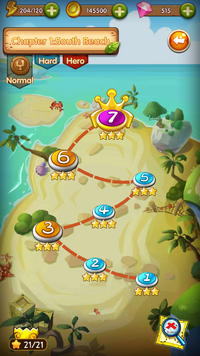 The main campaign stage to level up and get drop items and mystery chest rewards.
There are a total of 7 stages in each chapter. Once the player has completed all the missions in each area, players will be able to go on to the next chapter. Each stages has 3 difficulty modes, Normal (

), Hard (

), and Hero (

). Each difficulty gives a different reward output, the harder the difficulty, the better the reward will be.
Star Collection

For every 7, 14 and 21 stars achieved, collect your rewards.
Chapters
For the list of chapters, see Chapters
Drop List
For drop list, see Drop List
Ad blocker interference detected!
Wikia is a free-to-use site that makes money from advertising. We have a modified experience for viewers using ad blockers

Wikia is not accessible if you've made further modifications. Remove the custom ad blocker rule(s) and the page will load as expected.