Angry Birds Blast!

Current app icon
Info
Length (in levels):
270 (soft launch)
Developer(s):
Publisher(s):
Mybo
Rovio Entertainment
Released:
July 15, 2016 (Australia, New Zealand, Finland and Poland; soft-launch)

December 22, 2016 (Worldwide Release)

Platforms:
iOS, Android
Ratings:
ESRB: TBA
Genre:
Puzzle, tap-to-match
Version(s):
1.3.4
[Version History]
Angry Birds Blast! (stylized as AB BLAST!) is a tap-to-match puzzle game developed by Mybo and published by Rovio Entertainment.
Gameplay
This gameplay requires to pop 2 or more balloons of the same color to free the birds. By popping balloons, it will increase the score on top. By forming more balloons, a powerful booster can be used such as to clear a single balloon color, clear in a single column or row of the board. If the moves is reduced is zero, the player will either pay 25

Failing a level will subtract by 1 live and if all lives are lost, the player must wait for 30 minutes to recharge one or paying 18 (

) to refill full set of lives to continue playing. The map level selection is similar to Angry Birds POP! and there are different types of game modes that can be found.
The will be cases where level objectives are combined to be cleared by the player. There are different kinds of objectives shown:
Collect - Pop the required number of bird's balloon to complete the level.
Collect - Pop the pigs by popping the balloons around them.
Collect - Collect baskets by bringing into the collector.
Collect Balloon Pigs - Pop the balloon pigs required to complete the level.
Characters
Birds
Pigs
Currencies
There are two currencies in this game:
Silver () - Basic game currency to purchase boosters before starting the level.
Gold () - Purchase emergency items, such as when running out of moves.
Powerups
There are various of powerups that can be used in the gameplay.
Before playing the level
Bomb: Give a headstart by replacing one of the tile with a bomb.
Extra 3 moves: Give a +3 moves as a head start.
Scramble: Shuffles the whole grid.
In the level
Slingshot: Removes a selective choice of an area.
Scramble: Shuffles the whole area.
Quests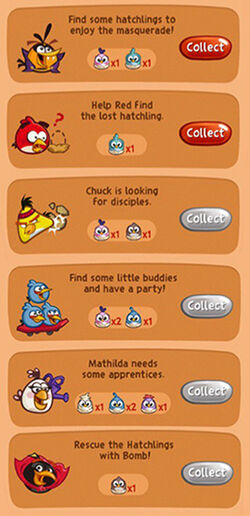 Quests are tasks to complete by obtaining Hatchlings from completing some levels where the Hatchling is shown on the map.
Journey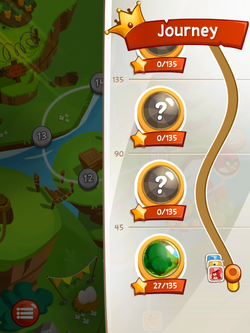 | Area | Release | Levels | Number of Stars |
| --- | --- | --- | --- |
| 1 Beach Day From Angry Birds Stella | December 22, 2016 | 1-45 | 135 |
| 2 Piglantis From Angry Birds Seasons | December 22, 2016 | 46-90 | 135 |
| 3 Desert Island | December 22, 2016 | 91-135 | 135 |
| 4 Cobalt Plateaus From Angry Birds 2 | December 22, 2016 | 135-180 | 135 |
| 5 Pig City From Angry Birds 2 | December 22, 2016 | 181-225 | 135 |
| 6 Castle Gardens | December 22, 2016 | 225-270 | 135 |
Achievements
For this game achievements, see Angry Birds Blast!/Achievements.
Gallery
For this subject's image gallery, see Angry Birds Blast!/Gallery.
Videos
Trivia
External Links
https://www.facebook.com/games/?fbs=-1&app_id=154975194846208 (Official Facebook page)
Ad blocker interference detected!
Wikia is a free-to-use site that makes money from advertising. We have a modified experience for viewers using ad blockers

Wikia is not accessible if you've made further modifications. Remove the custom ad blocker rule(s) and the page will load as expected.