Angry Birds Epic
Talk

2
2,661pages on
this wiki
Angry Birds Epic

Promotional image
Info
Length (in levels):
302 levels (303 levels if you count the Golden Pig level)
Developer(s):
Publisher(s):
Chimera Entertainment
Rovio Entertainment
Released:
Canada, New Zealand and Australia - March 17, 2014 (soft launch, iOS);
Worldwide - June 12
Platforms:
iOS, Android, Windows Phone
Ratings:
ESRB: Rating Pending
Genre:
Turn-based Role Playing Game
Version(s):
1.1.2 (iOS & Android)

Angry Birds Epic is a free-to-play turn-based role-playing video game released in 2014. Like Angry Birds Go! and Bad Piggies, the gameplay isn't like the original Angry Birds game, to which the game doesn't play similarly to the original game. Instead, you will help the birds to defeat the pigs not by launching them, but by controlling them.
Facebook announced that the game will soft launch in Canada, Australia and New Zealand later this week. It was released on March 17, 2014 in Canada, Australia, and New Zealand, and was released worldwide on June 12, 2014.
Gameplay
The gameplay of Angry Birds Epic is not as of the original Angry Birds Game - instead of flinging them, you get to control them. But like all the other Angry Birds Games, Rovio still maintained the mechanics' simplicity. To attack, simply swipe from a Bird whose turn is not yet used to a Pig when it is your turn. Tap a bird to use its secondary skill on itself (varies per bird and birds' classes), or swipe a bird (turn yet not used on your turn) to a bird to use its secondary skill on the other bird. During a battle, a chili pepper - called the Rage Chili - below will slowly fill whenever someone (bird or pig) is attacked or damaged. When filled, can be swiped to a bird whose turn is not used yet or does not have the effect that prevents them from using it to launch its special attack (such as Numbing Poison, etc.). Primary and secondary skills will change when the player swaps a bird's class. Majorly, changing class increases the number of birds that can be affected by a secondary skill.
The three-star system is still present, but the game will not present the score of the player during battle. Rovio made three-starring levels more important because the number of stars will also represent the number of crafting and brewing ingredients to be given to the player via the "wheel of fortune". After retrieving the anvil and buying the cauldron, players can use the earned ingredients to craft better weapons, off-hand items and potions, but can only craft them when they earn a blueprint of it, from treasure chests, buy it via in-game currency (mainly Snoutlings) and resource givers. When a player crafts an item, a dice will roll and determine how much damage, health or quantity will be added when the player uses it, but getting a three-star item adds the number of health, attack, or quantity it's description promised. Headgears, the items that change/determine a bird's class, do not have to be crafted.
The game features three kinds of currency:
Snoutlings, a common type of currency, are used to buy blueprints, classes, crafting materials, class and potion upgrades. These can be earned by defeating pigs, winning treasure chests, damaging Wealthy Rogues, damaging enemies with Piggy Mc'Cool, finishing daily dungeons and purchased with Lucky Coins. The player can also get a few Snoutlings as a consolation prize if he/she loses a battle.
Lucky Coins, however, are more rare and used to buy certain classes, spin the Golden Pig Machine, hire the Mighty Eagle, buy permanent upgrades and emergency consumables in battle. They can be earned by defeating the Daily Golden Pig, leveling up (until you reach the max level which is currently 41), winning treasure chests or purchased with real money.[1]
The Essence of Friendship is more different. It can be earned by asking Friends (like the friendship gate), bought with Lucky Coins, it is rewarded when a friend uses one's bird, and it is one of the items that you get when you scrap a Legendary Set Item. It is used to reroll the Wheel of Fortune and the crafting dice.[1] Now it can be used to make Stamina Drink too.
Plot
King Pig hires Wiz Pig (Chef Pig) and Prince Porky (Freckled Pig) to steal the eggs, and so they go on a journey with a small Pig army to get the eggs. The Pigs locate the eggs along  with Red (who was making soup) and Chuck (who was sleeping). The Pigs ambush Red and Chuck and as a result Wiz Pig succeeds in stealing the eggs and Prince Porky along with his Pig army manage to birdnap Chuck while they leave Red behind. Wiz Pig places one of the 5 eggs on a castle. Red journeys through Piggy Island to rescue Chuck, save the eggs (one egg at a time), save Matilda's garden, befriend Professor Pig, help Bomb defeat the pirate pigs who are attempting to take charge of his ship and save the Blues from the pirate pigs. After a few epic adventures, Red and his team (Chuck, Matilda, Bomb and the Blues) save 4 eggs. The fifth - and final - egg is held in King Pig's castle. The Birds reach and enter King Pig's castle. They defeat King Pig and Prince Porky, but Wiz Pig manages to escape with the egg. He also steals King Pig's crown. King Pig starts crying while the Birds and Prince Porky get angry. Wiz Pig creates his own castle on the top of a mountain and he settles there. 5 other wizard pigs appear and create a protection shield around Wiz Pig's castle. The Birds battle their way to Wiz Pig's castle defeating one wizard pig at a time. The shield goes down and the Birds enter the castle. After a small battle, Wiz Pig transforms into his ultimate form - Demonic Wiz Pig. Luckily, Prince Porky joins the Birds in the epic battle and together they defeat Wiz Pig. Victory - the Birds get the final egg back while Prince Porky gets King Pig's crown back and gives it back to King Pig.
Settings
The game is notably set on Piggy Island, and there are many sections of Piggy Island where the levels are placed.
South Beach

South Beach (4 levels)
Cornucopia Woods (1 level)

Cobalt Plateaus

Pig Prison (1 level)
Cobalt Plateaus (12 levels)
Cobalt Pig Castle (1 level)
Matilda's Garden (1 level)
Puzzle Bridge (1 level)
Southern Cobalt Plateaus (1 level)
Western Cobalt Plateaus (1 level)
Eastern Cobalt Plateaus (8 levels, levels 7-8 are behind a Red Pig Gate, levels 5-8 are behind both a Red Pig Gate and a Blue Pig Gate)

Golden Fields

Golden Fields (4 levels)
Beard Forest (2 levels, accessible via a Friendship Gate)

Limestone Lagoon

Limestone Lagoon (6 levels)
The White Whale (1 level)
Maelstrom (1 level)

Southern Sea

Shipwreck Reef (1 level)
Southern Sea (4 levels)

Desert Island (behind a Yellow Pig Gate)

Desert Island (3 levels)
Eastern Desert Island (1 level)
Desert Pig Castle (1 level)

Pirate Coast

Pirate Coast (3 levels)
Porktuga (Monday Dungeon, 1 level)

Slingshot Woods

Slingshot Woods (6 levels)
Western Slingshot Woods (1 level)
Northern Slingshot Woods (3 levels, levels 2-3 are behind a Friendship Gate)
Eastern Slingshot Woods (1 level)

Great Cliffs (4 levels)
Star Reef

Star Reef (8 levels)
Ghost Ship (Tuesday Dungeon, 1 level)
Star Reef Castle (1 level)

Banjo Bayou (behind a Blue Pig Gate)

Banjo Bayou (2 levels)
Floating Hoghouse (Wednesday Dungeon, 1 level)

Bamboo Forest (behind a Blue Pig Gate)

Bamboo Forest (9 levels)
Western Bamboo Forest (1 level)
Volcano Cliff (1 level)
Volcano Island (Thursday Dungeon, 1 level)
Eastern Bamboo Forest (3 levels, level 1 is behind a Red Pig Gate, levels 2-3 are behind a Friendship Gate)

Canyon Land

Canyon Land (3 levels)
Winter Wonderland (5 levels)

Snowy Peak

Snowy Peak (3 levels)
Mountain Pig Castle (1 level)

Islands in the Sky (3 levels)
Pumpkin Plateau

Pumpkin Plateau (2 levels)
Trick or Treat Castle (Friday Dungeon, 1 level)

Square Forest

Square Forest (3 levels)
Northern Square Forest (1 level, behind a Red Pig Gate)

Red Giant Valley (4 levels, behind a Red Pig Gate, levels 3-4 are behind a Friendship Gate)
Eastern Sea

Eastern Sea (7 levels, level 6 is behind a Red Pig Gate, level 7 is behind both a Red Pig Gate and a Friendship Gate)
Sunken Pyramid (Sunday Dungeon, 1 level)

Moorlands (3 levels)
Lake Land

Lake Land (3 levels)
Bottomless Cave (Saturday Dungeon, 1 level)

Northern Sea (4 levels)
Old Nesting Barrows (6 levels, level 6 is now behind a friendship gate)
Pig City

Pig City Harbor (1 level)
Pig City (3 levels)
King Pig's Castle (1 level)

Hog Head Mountain

Hog Head Mountain (6 levels)
Northern Hog Head Mountain (1 level)
Mouth Pool (1 level)
Magic Shield (5 levels)
Wizpig's Castle (1 level)

Chronicle Cave

Shaking Hall (10 levels)
Rain Plateaus (10 levels)
Misty Hollow (10 levels)
Cure Cavern (10 levels)
Burning Plain (10 levels)
Endless Winter (10 levels)
Forgotten Bastion (10 levels)
Strange Site (10 levels)
Pig Lair (10 levels)
Citadel (10 levels)
Mocking Canyon (10 levels)
Happy Spot (10 levels)
Uncharted Plains (10 levels)
Chronicle Cave levels are unique because they have different effects that make defeating all pigs and getting 3-stars more and more challenging, here are the factors that make these levels more challenging (besides the fact that some levels are 10-wave battles).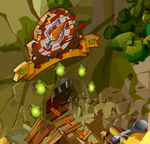 Shaking Hall - Deadly Grip: Deals 100 damage to a random bird, every 2 turns.
Rain Plateaus - Healing Waters: Heals all pigs by 150 health, every 2 turns.
Misty Hollow - Poison Clouds: Deals 40 damage to all birds, every 2 turns.
Cure Cavern - Ice Prison: Stuns a random bird for 1 turn, every 3 turns.
Burning Plain - Breath Of Fire: Deals 55 damage to all birds at the beginning of their turn, every 2 turns.
Endless Winter - Water Of Life: Health of all pigs increased by 25%.
Forgotten Bastion - Tranquil Air: Rage Chili fills up 75% slower.
Strange Site - Immunity: Pigs' helpful effects are not removable.
Pig Lair - Pig Pen: Summons 1 pig, every 2 turns.
Citadel - Healing Waters: Heals all pigs by 350 health, every 2 turns.
Mocking Canyon - Poison Clouds: Deals 125 damage to all birds, every 2 turns.
Happy Spot - Hot Steam: Deals 345 to both birds and pigs at the beginning of their turn, every 2 turns.
Uncharted Plains - Cave Tremor: Deals 405 damage to a random bird, every 3 turns.
Characters
See Epic Characters
Items and Equipment
See Equipment in Angry Birds Epic
Pig Keys
Pig Keys are special items used to unlock Pig Gates in the game. The Pig Gates block off other special levels and Friendship Gates. Each Pig Key can open the Pig Gate of the same color.
Yellow Pig Key: You must defeat Prince Porky in Southern Sea to get the Yellow Pig Key, and unlock all Yellow Pig Gates.
Blue Pig Key: You must defeat WizPig for the first time to get the Blue Pig Key, and unlock all Blue Pig Gates (plus the Floating Hoghouse)
Red Pig Key: You must complete Shaking Hall (Cave 1) in the Chronicle Cave and defeat the Dark Shaman to get the Red Pig Key, and unlock all Red Pig Gates.
WizPig also uses Blue Pig Gates in a humorous way, such as making Blue Pig Gates appear (to block off Floating Hoghouse, Bamboo Forest and the Star Reef Castle, however, the birds used the previously blocked way to enter the castle.)
Trivia
Like Angry Birds GO!, Angry Birds Epic shows the characters' toons design. (except for Corporal Pig, which has its old Toons design.)
This is currently the only game where the birds do not primarily use the Slingshot but the Blues use them as a weapon .

This is also currently the only game where the Mighty Eagle is shown not silhouetted.
This is also currently the only game that shows 5 eggs, instead of the normal 3.

This game currently is the only game where getting Zero Stars is possible, but it only applies to potions and equipment, not the levels.
Most of the levels' difficulties are "Considerably hard" but they are usually at "Medium" and :Insanely Easy" if you completed them in a lower level but you have a high level.
The Birds laugh if Pigs use feathered lances to attack them (except Lancer).

They also laugh if Golden Pig attacks using Headbutt, or when Little Ninja attacks with Chi Block but it is unknown how these attacks tickle the birds.

The shield with the icon at the left below in the poster is the Star Banner shield, see here.
All the characters that appear on the map (except for the Knights, Brutes, Shamen, Pigmies, Pirates, Wizards, Zombies, Ghosts) are just dressed in costumes.
This is the second game to feature Freckled Pig, with the first being Bad Piggies.
Even though officially named "Matilda", the game states that her name is "White" (except when unlocking her). This was true prior to the worldwide release.
This is the first game and currently the only game with three types of currency: Snoutlings, Lucky Coins, and Friendship Essence.
This is the second game where a player must have an active internet connection to play, with the first being Angry Birds Friends (mobile).
There are gates scattered in the game unlockable by collected keys (colored Pig Gates) and inviting friends (Friendship Gates) that when opened, it unlocks a level, but are not required to be opened to finish the game.
The game may say that there's an end in Chronicle Cave, but there won't be because Rovio is constantly adding new levels to it.
As you level up, the enemies of the Castle and Dungeon levels will also level up - their level will be the same as yours. The characters which you are able to borrow for the Dungeon and Cave levels - Prince Porky, Pigiana Jones, Piggy Mc'Cool and The Golden Pig - also level up.
Also depending on what level your friend's birds (Pig) are will be the same for Chronicle Cave's pigs: if your level is higher than your friend's bird (pig), the level of the pigs will be the same as your friends bird (pig). and if your friend's bird (pig) is higher than your birds, the pigs would have the same level as your birds.
The game also has references to Angry Birds Toons.

Piggy MC'Cool (Merchant Pig) is the pig disguised as the Blue Bird from the Toons episode True Blue?.
A part of the end of the story in Angry Birds Epic is inspired from the Toons episode "Trojan Egg", where Chef Pig tries to take the throne.
This is the fourth time Matilda is now known to be female as she wears wigs for her classes, which might be related to the TV show. (the first being Angry Birds Toons, the second being Angry Birds GO!, and the third being the Rio 2 levels in Angry Birds Rio)
In the episode Nighty Night Terence, the pigs used the set Artillery Strike to get the eggs from Terence.

Maelstrom is incorrectly named in the softlaunch version.
In the dungeon levels, it plays the epic map music. (Music when you play Castle Level and when the Wizpig flees and put an egg in a castle)
Wizpig's Castle is formerly named Wiz Pig's Castle.

Wizpig also is formerly named Wiz Pig.

Certain features like characters, costumes, set effects and items, etc. in Epic reference other popular media.

In one of his costumes, the Foreman Pig has a costume resembling Nintendo's Mario.
When encountering WizPig for the first time in Star Reef Castle, he has a secondary skill called "Power Up Shroom", which might be referencing the Super Mushroom in the Mario series.
Artillery Strike, one of the Blues' set effects, references the Big Lucky from Mario and Luigi: Dream Team.
In one of his costumes, the Ironclad Pig has a skill named "Winter is Coming." This references HBO's Game of Thrones series.
Rovio also posted an artwork of Prince Porky saying "Hear Me Oink!". The throne he is sitting on also references Game of Thrones.
Mighty Eagle's hint: "I'm the only one who can dislike on Facebook" is very similar to a Chuck Norris joke.
In one of the costumes, the Dark Knight in Trick or Treat Castle resembles Darth Vader from Star Wars.

This might be related to Lard Vader in Angry Birds Star Wars.
It is unknown how Dark Knight, who resembles Darth Vader, is portrayed by a Knight (Ironclad) Pig, while Lard Vader is portrayed by Red (Anakin Skywalker) in the Angry Birds Star Wars series.

Hazy Hollow was supposed to be a Misty Hollow island, where there are few mist and lots of crystals. It is now part of the Chronicle Cave.
Soothing Springs was meant to be the hot springs of the outdoors of the island, but instead found in the cave.
Ice Pig's attacks resemble those of Elsa's from Frozen (except for his costume)
During planning stages, Witch Doctor was originally intended to be the 6th class of Matilda. It is now a type of Shaman. Instead, the Moon Priestess is her 6th class.
This is the second time a bird is an antagonist (which is the Sword Spirit in Old Nesting Barrows). The first one is Nigel in Angry Birds Rio, and the third is Gale from Angry Birds Stella.
Red's second appearance (Sword Spirit) has alliteration.
When a player loses at Old Nesting Barrows 4, the laugh of Sword Spirit is the same as Red's laugh.

This is because the Sword Spirit uses Red's own graphics and sound effects.

Freckled Pig's role (Prince Porky) has alliteration.
Pigiana Jones is a reference to Indiana Jones.
The boss of Endless Winter, "Knight of the Living Dead", references the movie "Night of the Living Dead."
THE Sling and Angry Bird Plushies, two set items for the Blue Birds reference the original Angry Birds.

THE Sling also resembles the slingshot in the original.

Prince Porky's rage ability, the Holy Hand Grenade, is a reference to the game Worms and Monty Python and the Holy Grail.
Square Forest and the Squarewood item also reference Minecraft.
If you choose Red, Chuck and The Blues in the final battle, plus Prince Porky or Pigiana Jones, their colors and order will be the same as that of the Super Famicom controller (A=Red, B=Yellow, X=Blue, Y=Green).
Frost Hog's weapon (a frozen watermelon on a stick) might be also slightly referencing the Super Blue Watermelon from Super Mario World 2: Yoshi's Island and Winter Melon's projectile (also a frozen watermelon, but completely blue) in Plants vs. Zombies.
Chef Pig is called Wizpig. This is the same name as the main antagonist of Diddy Kong Racing.

This is one of the few Angry Birds games to use funny cartoon sound effects, the others being Bad Piggies and Angry Birds GO!
In the Gameplay Trailer, most of the pigs used different voices of other pigs. This appears to be an oversight of the developers, but luckily it was fixed upon worldwide release.

For example: Wizpig sounded like a Wizard Pig, and when the Wizard Pig was knocked out, it sounded like Wizpig being knocked out. and Prince Porky sounded different when he sticks his tongue out.
This is also when Chuck and Matilda laughed. And when the Wizard Pig attacked, it sounded like Wizpig attacking.
This is also when Chuck made his rage ability noise, it added the noise when the player uses any type of Hot Veggie Cake on Chuck

There is an bug that is still not fixed and its that if you knock out Demonic WizPig, his mustache will disappear.
Errors
Matilda's hair is down when running, but when she stops and catch up with the others, her hair is still down but then a second later, it went back to normal.
Rescuing the first egg, the cutscene shows the egg so large.
When the Pokemon tournament came out, Matilda's crying noise broke down.
Some birds cheer with their eyes open.
On the castle 2 Cutscene, Bomb and the Blues appear, but they weren't unlocked. Same goes for castle 3 Cutscene because the Blues appeared but they weren't rescued.
This game may take place before Angry Birds Original, as there are 5 eggs, not 3, and only the "main flock" is present.
. 
Images
Cutscenes
Video
References
Angry Birds Epic
Characters

Protagonists
Antagonists
Supporting Characters

Terms