These are the characters that appear in Angry Birds Epic.
Birds
Playable characters
Non-playable characters
Imprisoned Chuck
Imprisoned Chuck

45

Save Me!

Destroy the cage to save Chuck free!


If you reduce the hp to zero, Chuck will wipe out all enemies on the battlefield.



Chuck appears in a cage at the start of the game to the completion of Pig Prison where he is used to clear the last wave. He also appears in a cage from the completion of Bamboo Forest - 1 to Bamboo Forest - 6.
Mighty Eagle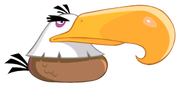 Mighty Eagle takes the role of the class trainer and owner of Mighty Eagle's Dojo. He sells the classes for the birds in the class trainer and upgrades the classes' strength and health in the Mighty Eagle's Dojo. He can also be summoned in combat by using the mighty eagle's favourite dish where he will kill all enemies (including bosses) in one hit.
Terence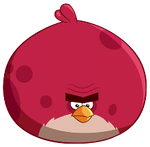 Although not playable, Terence appears in Angry Birds Epic. He leads the player vs. player arena, and like his personality he shows no emotion. In the post-battle room, he replaces Red's head on the totem pole.
Sword Spirit
Sword Spirit

1043

Angry Bird

Charge: 3 turns. Deals 282 damage.

Fortify

Taken damage is reduced by 55%. Lasts 3 turns.

| | |
| --- | --- |
| | Duel of Honor |



He is Red equipped with the Dragon Breath Set and the Avenger class. However, his set is that of a Knight. This bird must be defeated before access to Mighty Eagle's Dojo is granted.
To know how to defeat this enemy, refer to Old Nesting Barrows - 4.
Pigs
Special Pigs
Wizpig
Prince Porky
King Pig
Piggy Mc'Cool
Piggy Mc'Cool/Merchant Pig

HP

Pick Pocket

Deals 100% damage (he has a chance to deal critical damage) and steals 2-3 from target.

Restock

Consumables used on the target have a 65% chance that they are restocked for free. Lasts 3 turns.

Happy Hour!

Rage Ability. All birds are healed by 35%. Rage Chili is refilled by 35%.

A pig dressed as the Blues from the Toons episode "True Blue". This pig can be used as an ally for Daily Dungeons and Chronicle Cave. You can also visit his island, he has an Airship, all of the keys, the Diamond Anvil, the Golden Cauldron, and the Golden Rage Chili. His birds are Red (Paladin holding Titan's Wrath and Titan's Grip), Chuck (Wizard), Matilda (Bard), Bomb (Capt'n) and The Blues (Spies holding Angry Bird Plushes and The Sling).

Name in other languages

Language
Name
Meaning
Russian
Свин Хрякович
Svin Hryakovich
From "Хряк" (Boar).
Chinese
(zh-cn)麦酷小猪 /(zh-tw)麥酷小豬
McCool Piggy



Valkyrie
Valkyrie

H

Purifying Smite

Deals 100% AD damage. 65% chance to remove positive effects from target.

Shield Wall

Target receives 25% less damage. Last 3 turns.

Back to Valhalla

Deals 148% AD damage. All other enemies receive 60% AD damage.



Normal Pigs
Stick Pig with stumble variants
Worker Pig variants
Rogue Pig variants
Golden Pig variants
Others
Dataless
Bombs
Bombs are enemies which kill themselves after attacking. Most will charge their attack for two turns.
Pirate Pigs
Pirate Pigs take the role of pirate enemies. Their "Dirty Tricks" passive ability makes them immune to all harmful effects.
Brute Pig
Brute Pigs take the role of the berserkers or heavy damage dealers in this game. Most of them has have three turn charge attacks. They resemble Fat Pigs.
Zombie Pigs
These undead pigs take the role of zombie enemies. It takes 3 turns to revive to full health if knocked out (except Pharaoh Pig), unless all other pig allies are also knocked out.