Under Pigstruction!

This article or section is in the process of an expansion or major restructuring. You are welcome to assist in its construction by editing it as well. If this article or section has not been edited in several days, please remove this template.
Angry Birds Evolution

Current app icon
Info
Length (in levels):
TBA
Developer(s):
Publisher(s):
Chimera Entertainment
Rovio Entertainment
Released:
July 11, 2016 (beta; iOS only)


August 17, 2016 - TBA (Hong Kong; soft-launch; iOS only)

Platforms:
iOS
Ratings:
ESRB: TBA
Genre:
Puzzle, RPG, Physics, Strategy
Version(s):
1.0.1
[Version History]
Angry Birds Evolution is a upcoming 3D puzzle RPG game that was released for the beta on July 11, 2016 (iOS users only), and August 17, 2016 for soft launch in Hong Kong on App Store.
It was developed by Chimera Entertainment, who also did with other game, Angry Birds Epic.
This game features graphics as Angry Birds Action! and Angry Birds Holiday. The gameplay is similar to Action!, but it has over 300 new birds where you can build your team with combine powerful skills, and evolve your birds into their ultimate form.
History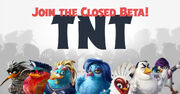 The information about the Angry Birds Evolution was appeared on July 2016, when Rovio and AngryBirdsNest were hosting the beta of this game with code named "TNT". It was released for iOS users only on July 11, 2016, this game was originally named as Angry Birds TNT.
The beta was closed on August 3, 2016. And the game was released for soft launch on August 17, 2016 in Hong Kong.
Gameplay
The gameplay of Angry Birds Evolution is similar to the Angry Birds Action!. Player must pull the selected bird and aim the pig. Number above the pigs is how many turn to attack players and number above the birds is how many turn left to use special attack. Each color birds have a different abilities such as:
Characters
Playable Characters
For the list of birds, see Birds
Non-Playable Characters
Mighty Eagle
Billie
Wonder Bird
Pigs
For the list of the pigs, see Pigs
Chapters
Chapter 1: Return of the Pigs
Chapter 2: The Desert Door
Chapter 3: Saving Major Pecker
Chapter 4: Flighty Instincts
Chapter 5: Birdy Trap
Chapter 6: Temple of Warth
Chapter 7
Chapter 8: Birdtopia
Chapter 9: Under Siege
Chapter 10
Chapter 11
Chapter 12
Chapter 13
Chapter 14
Chapter 15
Chapter 16: Return of the Pigs
Bird Town
For details about Bird Town, see Bird Town.
Achievements
For this game achievements, see Angry Birds Evolution/Achievements.
Gallery
For this subject's image gallery, see Angry Birds Evolution/Gallery.
Reception
TBA
Videos
TBA
Trivia
This is the also the fourth Angry Birds game to use designs from The Angry Birds Movie.
This is the fifth Angry Birds game that requires an internet connection in order to play the game.
External Links
TBA