Under Pigstruction!
This article or section is in the process of an expansion or major restructuring.
You are welcome to assist in its construction by editing it as well. If this article or section has not been edited in several days, please remove this template.

This page is a stub article
This article is a stub. You can help Angry Birds Wiki by expanding it and adding more information as soon as possible, then removing the stub tag.
Angry Birds Evolution

Current app icon
Info
Length (in levels):
TBA
Developer(s):
Publisher(s):
Chimera Entertainment
Rovio Entertainment
Released:
July 11, 2016, Beta Was Open For IOS Users Only For Angry Birds Nest,

August 3, 2016, Beta Was Closed For IOS Users Only For Angry Birds Nest,

August 17, 2016, Soft launch Hong Kong For IOS Only,

October, 2016, Netherlands, Israel, Philippines, Indonesia, Sweden, Finland, Denmark, Norway, Iceland, Ireland, Poland, Singapore, Hong Kong, Australia, New Zealand, UK, Taiwan, Belarus, Hungary, Czech Republic, Bulgaria, Slovakia, Switzerland, Croatia, Greece and Thailand Was Soft Launch,

June 2017, USA

Platforms:
IOS, Android
Ratings:
ESRB: 12+
Genre:
Puzzle, RPG, Physics, Strategy
Version(s):
1.4.0
[Version History]
Description
Angry Birds Evolution is a free-to-play turn-based role-playing video 3D puzzle RPG game that was released for the beta on July 11, 2016 (iOS users only), and August 17, 2016 for soft launch in Hong Kong on App Store. The game plays similar to the Angry Birds Epic which was also developed by Chimera Entertainment. It plays similarly with exception by slinging birds toward the enemies to defeat them.
Description from the App Store
The Angry Birds are back! Build your team, train your birds and kick the pigs off Bird Island. Choose your favorites from over 300 ALL-NEW BIRDS in this action-packed RPG with superb 3D graphics. Mayhem! Drama! Hilarious Fun! Join the craze today!
COLLECT, ASSEMBLE AND EVOLVE YOUR FLOCK!
300+ crazy new Angry Birds?! That's right, the flock is bigger and badder than ever before! Build your team own team, combine super skills and evolve your birds into their ultimate form. Gotta hatch 'em all!

JOIN WEEKLY EVENTS!
Claim awesome rewards by taking part in weekly events by yourself or with your clan buddies. Build the strongest, most awesome clan on Bird Island and show YOU RULE THE ROOST!

COMPETE AGAINST OTHER PLAYERS!
Welcome to the Oinktagon, where two teams enter, but only one leaves. Challenge other players in PVP tournaments of Pigball and dominate the leagues for awesome rewards. Nothing says: "You're going down!" like a PIG IN THE FACE!

CRUSH PIGS IN EXPLOSIVE BATTLES!
What's worse than egg-stealing pigs? Over 90 all-new egg-stealing Pig types from tourists to pirates, that's what. Drag, aim and FIGHT THEM OFF THE ISLAND!

EMBARK ON AN EPIC ADVENTURE!
Something sinister is brewing on Bird Island… who is behind the mysterious Bacon Corp? What is the Eagle Force? Who lost the keys to the dungeons? Where do all these breathtaking new areas on Bird Island come from? Find the answers – only in Angry Birds Evolution!
Gameplay
This game features graphics as Angry Birds Action! and Angry Birds Holiday. The gameplay is similar to Action!, but it has over 300 new birds where you can build your team with combine powerful skills, and evolve your birds into their ultimate form.
History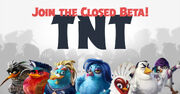 The information about the Angry Birds Evolution was appeared on July 2016, when Rovio and AngryBirdsNest were hosting the beta of this game with code named "TNT". It was released for iOS users only on July 11, 2016, this game was originally named as Angry Birds TNT.
The beta was closed on August 3, 2016. And the game was released for soft launch on August 17, 2016 in Hong Kong.
The game released more on October 2016.
Gameplay
The gameplay of Angry Birds Evolution is similar to the Angry Birds Action!. Player must pull the selected bird and aim the pig. Number above the pigs is how many turn to attack players and number above the birds is how many turn left to use special attack. Each color birds have a different abilities such as:
Characters
See The List of Birds, See Birds
See The List of Pigs, See Pigs
Chapters
Chapter 1: Return of the Pigs
Chapter 2: The Desert Door
Chapter 3: Saving Major Pecker
Chapter 4: Flighty Instincts
Chapter 5: Birdy Trap
Chapter 6: Temple of Warth
Chapter 7: Robobird
Chapter 8: Birdtopia
Chapter 9: Under Siege
Chapter 10: The Irate Capades
Chapter 11: The Snowbomb
Chapter 12: Saving Peck Girl
Chapter 13: Runaway Train
Chapter 14: Hunt for Bacon Plaza
Chapter 15: Bacon Juice
Chapter 16: Return of the Pigs
Endless Chapters After: ∞
Bird Town
For details about Bird Town, see Bird Town.
Arena
For details about Arena, see Arena.
Achievements
For this game achievements, see Angry Birds Evolution/Achievements.
Gallery
For this subject's image gallery, see Angry Birds Evolution/Gallery.
Reception
TBA
Videos
TBA
Trivia
This is the fourth Angry Birds game to use designs from The Angry Birds Movie.
This is the fifth Angry Birds game that requires an internet connection in order to play the game.
This is the only Angry Birds game to not include any original characters (excluding Red as he is an event only exclusive character)
External Links
TBA
Ad blocker interference detected!
Wikia is a free-to-use site that makes money from advertising. We have a modified experience for viewers using ad blockers

Wikia is not accessible if you've made further modifications. Remove the custom ad blocker rule(s) and the page will load as expected.