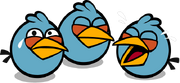 King Pig has stolen the Eggs, and there's no way to retrieve them, ever!
This article contains information about an abandoned project.
The content of the article or this section may have been scrapped during development from the game, characters, or other Angry Birds medias.

Under Pigstruction!
This article or section is in the process of an expansion or major restructuring.
You are welcome to assist in its construction by editing it as well. If this article or section has not been edited in several days, please remove this template.
Angry Birds Football

Current app icon
Info
Length (in levels):
N/A
Developer(s):
Publisher(s):
New Star Games
Rovio Entertainment
Released:
April 25, 2016 (soft-launched)
Platforms:
iOS,

Android

Ratings:
N/A
Genre:
Sports
Version(s):
0.41.4
[Version History]
Angry Birds Football (formerly as Angry Birds Goal!) is a soccer game based on The Angry Birds Movie. it was developed by New Star Games and published by Rovio Entertainment. This game was soft launched on April 25, 2016.
History
Discontinuation
Rovio was comfirmed that Angry Birds Football has stopped development and the game will be shut down after December 15, 2016. In-app purchases was disabled on December 1, 2016. However, the game continues to function normally if remained on the device or installing by Jailbreaking or APK file. The notice still appears even after December 15th, 2016. [1]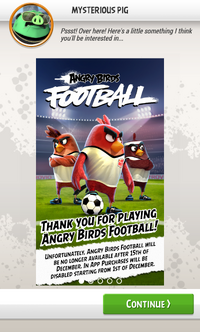 Characters
Gameplay
Leagues
There are in a total of 9 leagues to complete.
Trotter League (League 9)
Buzzard League (League 8)
Yolk League (League 7)
Hock League (League 6)
Angry League (League 5)
Condor League (League 4)
Tweet League (League 3)
Huffers League (League 2)
Wing League (League 1)
Achievements
For this game achievements, see Angry Birds Goal!/Achievements.
Gallery
For this subject's image gallery, see Angry Birds Goal!/Gallery.
Videos
Trivia
References
Ad blocker interference detected!
Wikia is a free-to-use site that makes money from advertising. We have a modified experience for viewers using ad blockers

Wikia is not accessible if you've made further modifications. Remove the custom ad blocker rule(s) and the page will load as expected.