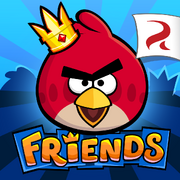 Angry Birds Friends
is a free app in the app store that was released May 2, 2013. It's a game based on the original 
Angry Birds Friends
 on Facebook, which you can play on your mobile device wherever you are.
There are no episodes in this app so far unlike the original game, not even Pigini Beach or Pig Tales. However, it does have the weekly tournament that have new levels every week, and many of the features such as Power-Ups, Wing Man, Bird Coins, and more.
Gameplay
This game works just like every other Angry Birds game (besides Bad Piggies). In this game, once you pass a tournament level, you earn free Bird Coins. These coins can purchase Power-Ups in the store, or you can just purchase them with your actual money on your iTunes account. 
Episodes
There really are no episodes in this game so far, but you can currently play:
Tutorial Tournament (must be completed before you can play the others, cannot be replayed after completion)
Power-Up Practice (new place with unlimited power-ups that you can just practice with)
Playable Characters
Characters that are currently available for this game are:
Unplayable Characters
Unplayable Characters for this game so far are:
Trivia
This game was released on May 2, 2013, where you can play the original Angry Birds Friends on your mobile.
There are no episodes so far, unless you count the Power-up Practice and the weekly competition. But they're just game modes.
The Power-Up Practice is the only world with unlimited power-ups.
Like in Angry Birds Space, the Minion Pigs in the tournament somehow look like the Small Pig in different sizes.
Gallery