Angry Birds Go: Jenga Pirate Pig Attack
is a real life game for
Angry Birds Go
 that is based on the real Jenga game. The rules are different because you want to knock down the tower instead of not wanting to. You can play a virtual version of the game on Angry Birds Go by either purchasing it for $1.99 or entering the code from the real game.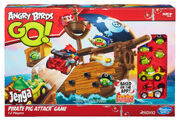 Ad blocker interference detected!
Wikia is a free-to-use site that makes money from advertising. We have a modified experience for viewers using ad blockers

Wikia is not accessible if you've made further modifications. Remove the custom ad blocker rule(s) and the page will load as expected.