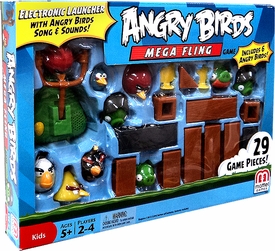 Angry Birds Mega Fling is a board game by Mattel and the largest known Angry Birds board game in the series with 29 game pieces. This is the second Angry Birds board game not featuring the King Pig after Angry Birds Mega Smash. It is the 6th game in the series being released in early-November 2012. It has identical gameplay to all the other board games.
Pieces
Slingshot with song and sounds such as the Angry Birds Title Theme and Bird launching plus pig sounds.
2 Bonus Point Pig Helmets
2 Long Stone Girders
2 Short Stone Girders
4 Long Wood Girders
2 Short Wood Girders
2 Triangular pieces
2 Wood Cubes
Bonus Points Eggs
Bonus Points Star
Trivia
Although Green Bird does not appear, his fling sound is heard on the slingshot.
Ad blocker interference detected!
Wikia is a free-to-use site that makes money from advertising. We have a modified experience for viewers using ad blockers

Wikia is not accessible if you've made further modifications. Remove the custom ad blocker rule(s) and the page will load as expected.