This article is about the 2016 film. For the game, see Angry Birds. For other uses, see Angry Birds (Disambiguation).
Angry Birds Movie



Release Date

May 20, 2016

Writer

Jon Vitti

Directors

Clay Katis, Fergal Reilly

Production

David Maisel
The Angry Birds Movie is a movie based on the Angry Birds series of video games and is scheduled for release in theaters May 20, 2016. It will be computer-animated and will be released in 3D. John Cohen will be the producer while David Maisel will be the executive producer.[1][2][3] The film will be produced and financed by Rovio Entertainment. On May 15, 2013, it was announced that the film will be released on July 1, 2016, and will be distributed by Sony Pictures Entertainment.[4][5][6] The film was scheduled to be released on July 1, 2016, but in December 2014, it was moved up to May 20, 2016. On May 20, it was announced that Jon Vitti will write the screenplay for the film, while Catherine Winder is also joining as a producer.[7] On October 9, it was announced that Clay Kaytis and Fergal Reilly will be the directors.[8]
Synopsis
The movie takes place on Bird Island, an untouched paradise habited by birds who are naive and innocent, who know nothing of the outside world. They treasure eggs, and are all carefree and easygoing, except for few.
Red, the lead of the film, had lost his temper quite a few times and had gone to court and had been sentenced to anger management courses, led by Matilda. who has also had anger issues before but turns it all into a hippie and zen-like lifestyle. Another angry bird is Chuck, who moves fast and talks fast. Bomb, another main character, frequently blows up due to his disorder IED, Intermittent Explosions Disorder. Bomb lives in a bomb shelter.
The birds are visited by pigs, who are dumb but funny. The birds and pigs befriend each other and have a party, but Red does not trust the pigs at all.
Unlock the Flock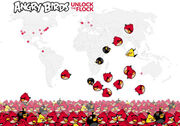 By every bird flung during the Sneek Peek Weekend and every share, Rovio would drop a bird on the www.unlocktheflock.net website, which counts as a "fling". For 1 Billion flings, they would release an exclusive surpise. It was a poster for the Angry Birds Movie.
Main Cast
Supporting Cast
​Supporting Roles (Roles not yet confirmed)
Unknown - The Blues (Jim, Jake, Jay)
Unknown - Hal
Unknown - Terence
Unknown - Bubbles
Unknown - Stella
Unknown - Foreman Pig
Unknown - Chef Pig
Unknown - Gale
Unknown - Willow
Unknown - Freckled Pig
Ike Barinholtz
Keegan-Micheal Key
Hannibal Buress
Kate McKinnon
Darren Dunstan
Greg Abbey

Hannibal Buress

Cristela Alonzo

Jillian Bell

Danielle Brooks

Romeo Santos

Ian Andrew Hecox

Anthony Padilla
Titles and Release Dates in other languages
Language
Title
Release Date
Finland
Angry Birds Elokuva
May 13, 2016
Mexico
Angry Birds: La Película
May 13, 2016
Russia
Angry Birds в кино
May 12, 2016
France
Angry Birds Le Film
May 11, 2016
Japan
アングリーバード
October 1, 2016
Korean
앵그리버드 더 무비
June 2016
Israel
אנגרי בירדס
May 12, 2016
Italy
Angry Birds - Il film
June 2016
Thailand
The Angry Birds Movie
TBA 2016
Poland
The Angry Birds Movie
July 1, 2016
Brazil
Angry Birds: O Filme
May 12, 2016 (Brazil)

June 1, 2016 (Portugal)

Sweden
Angry Birds
May 13, 2016
China
愤怒的小鸟大电影
TBA 2016
Gallery
Posters
Videos
Trivia
References
External Links