Angry Birds POP!

The Hatchlings update
Info
Length (in levels):
1865
Developer(s):
Publisher(s):
Rovio Entertainment, Outplay Entertainment

Rovio Entertainment
Released:
December 22, 2014 (Canada; soft launch)
March 12, 2015 (Worldwide)
October 29, 2015 (Facebook)
Platforms:
Android, iOS, PC
Ratings:
ESRB: Everyone
Genre:
Tile-matching
Version(s):
IOS: 3.4
Android: 3.4.2
Facebook: 1.18.1 (Discontinued)
[Version History]
Main Menu Music
Angry Birds POP! (originally known as Angry Birds Stella POP!) is a bubble shooter of the Angry Birds series, and formerly, the second game of the Angry Birds Stella series. The game released on December 22, 2014 in the Canada App Store and released worldwide on March 12, 2015. On October 29, 2015, the game was added to Facebook.
Characters
Playable Birds
Non-Playable Birds
Limited Time Birds
For a list of limited time birds, see Angry Birds POP!/Limited Time Birds.
Enemies
King Pig (formerly Gale, prior to version 2.22)
Others
Bees () (Every successful pop will bring in one bee into the playing field up to 3 bees. Miss one will lose one, and changes color every 3 successful pop. Drop onto it will bounce to score points, color changes from green to purple and to orange)
Gameplay
The game features the slingshot lined up in the bottom center, the player flings the bubble to pop bubbles at the top with a combination of three or more bubbles with the same color. Each level will be given a limited number of bubbles indicated beside the slingshot known as the bubble count. Sometimes, there are some obstacles and special blocks appears at the top along with the bubbles. The game also has lives like all other match-3 games. Each level attempt must have at least a live in order to play. When you run out of bubbles, there will be an option to continue by purchasing 12 x

in exchange for 5 bubbles and 1 x

each time or to give up. When you give up, will lose one of the lives. Afterwards, you may retry or if available watch an advertisement video to earn free boost at the beginning of the next attempt. If you lost all the lives, you must purchase with 10 x

to continue playing. The game will feature the five characters that appears in Angry Birds Stella formerly, and after the Hamhock Holmes update, 5 characters from The Angry Birds Movie (including Stella as she remained). Each character will have a special power that can be used when the Pop Meter is full to unlock powerful boosts from their powers like Stella's Power Pop, Bomb's Blast Pop and many more. To fill the Pop Meter, you have to get x6 Streaks, that means popping 6 times in a row without a single miss. The levels are in different modes and each of them marked as an icon and the level number (

). Each kind of levels have a music in the game that distinguish different types of gameplay. When the level is completed, the number of stars earned and if golden feather was achieved it will be shown on the map (refer to gallery). Here we will show you a list of the kinds of levels that has been known:
| Type | Image | Icon | Music | Description |
| --- | --- | --- | --- | --- |
| Drop the Pigs | | | | Help Red (formerly Stella) to pop bubbles and drop all the pigs to win the level! |
| Pop the Top | | | | Help Stella pop any 6 top row bubbles to complete the level! |
| Piggy in the Middle | | | | Help Chuck (formerly Dahlia) drop the pig by popping everything around him! |
| Free the Hatchlings | | | | Help Matilda (formerly Willow) drop the bubbles with Hatchlings inside to free them! |
| Beat the Clock | | | | Help Bomb (formerly Poppy) to pop or drop all the bubbles before he runs out of time. |
| Defeat King Pig | | | | King Pig (formerly Gale) and the minion pigs will try to stop you from clearing the level. |
Abilities
Each bird has a special pop when their streak meter is full.
Be careful when using a special pop against a powerup(s) as it will trigger the effects.
Bird
Ability Name
Special Pop
Description
Stella
Power Pop
Pops bubbles and obstacles except rocks around an area.
Dahlia
Science Pop (formerly Color Pop)
Before v2.3.0: Pops all bubbles of the color that is hit.

v2.3.0 onwards: Her ability is the same as Chuck's when he is available for a limited time. This pop is called the Science Pop.

Willow
Splash Pop
Colors bubbles in an area the same color as the next bubble. She is now no longer playable and was removed in v2.34.
Poppy
Line Pop
Pop rows of bubbles. It allows the player to complete in less time. She is now no longer playable and was removed in v2.34.
Red
Rock Pop
Pops up to 4 bubbles, including obstacles.
The Blues
Triple Threat (Triple Pop)
Pops bubbles around three areas.
Chuck
Color Pop (formerly Flash Pop)
Before v2.3.0: Flash Pop pops all bubbles in a column. (Including rocks, making his ability very useful)

v.2.3.0 onwards: His ability is the same as Dahlia when she was available permanently. This pop is called color pop.

Shakira Bird
Love Pop
Adds all the bubbles it hits (excluding special ones) into your bubble count, providing extra moves. It does not increase the timer in Poppy levels. She is no longer playable and was removed permanently including on the map as she is an exclusive character.
Bomb
Blast Pop
Before v2.34: Pops all bubbles and blocks in a row. However, this only clears 3 items to each side.

v2.34 onwards: He is now permanently playable and his blast pop is the same as Poppy.

Luca
Sonic Pop
Drops bubbles. However, it does not add into your bubble count, unlike Shakira bird. Does not increase timer in Poppy levels.
Matilda
Splash Pop (formerly Flock Pop)
Before v2.34: The same as Shakira's Love Pop except it does increase timer in Poppy levels.

v2.34 onwards: She is now permanently playable and her ability is the same as Willow. Her special pop is now Splash Pop.

Hatchlings
Prize Pop
The same as Willow except it transforms bubbles to prize bubbles.
Gale
Royal Pop
The same as Willow except it transform bubbles into royal bubbles. Hit it with any colored bubble.
Phantom Bird
Opera Pop
The same as Red's ability.
Super Red (iOS exclusive)
Super Rock Pop
The same as Red's ability.
Christmas Red
Rock Pop
The same as original Red's ability.
Boosters
Boosters are powerful powerups that can be obtained by completing daily quest or by watching an advertisement video. They can be used on demand in the gameplay.
For a list of boosters and how to use them, see Angry Birds POP!/Boosters.
Areas
For a list of areas, see Angry Birds POP!/Areas.
Daily tasks
Since version 2.15, players are given 3 tasks to complete for 3 reward items such as boosters and gold. (X denotes the item variable and Y denotes the number value)
Pop X Y bubbles
Bounce X Y bubbles
Complete Y levels
Spend Y
Play as X Y times
Use X booster Y times
Drop X Y bubbles
Earn Y X golden feathers
Send Y lives to friends
Swap bubbles Y times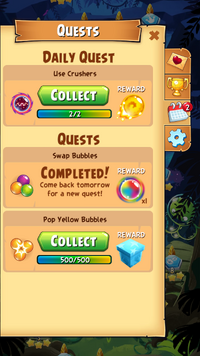 A quest will be shown while the task is in progression.
Collect rewards for each of the completed task. One booster for the first 2 tasks, and the last task will be a mystery boost reward either 2x or 3x of a boost.
Infinite Lives
By purchasing any bundle containing an infinite lives timer, the player will have unlimited lives and will not consume one when failed to complete the level. The expiry timer is shown on the lives left meter.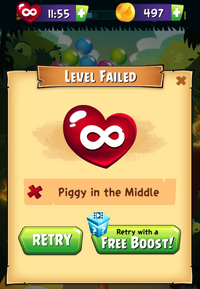 Events
Community Challenges
During the RED event for iOS exclusive, players have to pop the number of pigs to earn boosters.
During the Christmas 2016 update, players have to collect presents for rewards.
Solo challenges
Collect the eggs: Reach a number of eggs to unlock boosters during March 17 to March 2017.
5,000 Eggs:???
10,000 Eggs:???
20,000 Eggs:???
50,000 Eggs:???
Trivia
This has the most number of levels in all Angry Birds games, the second most from Angry Birds Seasons.
This is the fifth Angry Birds Game/Spinoff without regular gameplay.
This is the 1st time Red does appear in an Angry Birds Game/Spinoff formerly (See Teaser)
Angry Birds Seasons, the second Angry Birds game, came 2 years after the first Angry Birds game. However, Angry Birds Stella Pop was announced 2 months after Angry Birds Stella was released.
This is the first Angry Birds game played in portrait orientation.
This is the first time a character who is playable before appears but is not playable
There is a lives system in this game. It works similar to Candy Crush Saga as failing a level costs 1 live and recharging for 30 minutes each.
This is the first Angry Birds video game that does not have its own Toons.TV video app, formerly, and now it has its own.
Red is the first bird to appear as a guest star twice.
This game is one of the few Angry Birds games that is also available on Facebook besides Angry Birds Friends.
It is possible to get zero stars on levels, which means you fail the level. This makes the first Angry Birds game to do this. (Angry Birds Epic does not count because the game only gets zero stars on equipment's.)
Some of the Time-Limited Birds appeared on mobile, and not available on the Facebook version.
In Facebook version, if there is an error with the game, such as internet being disconnected or synchronization errors, you will lose a live if you are playing in the level.
Update Trivia
Mobile
In the 1.4.30 update, the player can choose between the bird required for the main level or Red when he was available for a limited time (from March 21st 2015 to June 3rd 2015).

Red is also the first playable male from this game.
Also, when playing with Red, you see a feather along with the stars. In order to get the feather, the player must complete the level with Red. The game actually says that "the feathers might be valuable"
Red has been removed as of June 4th 2015, but the collected feathers still stay in the game.
Even if removed, he still appears in the map while playing a guitar.*The Blues appeared in the 1.7.2 update as playable birds in the same manner as Red(avaliable from July 6th to July 20th). However, they require blue feathers.
Blue feathers are earned in the same way as Red: by beating a certain score and completing the level.
Just like Red, The Blues stay for 2 weeks straight, and after they're not going to be playable after the timer is out.
Chuck also appears in the game.

Since v1.8.0 update, the Stella name was removed from the app store's title and the new name is Angry Birds POP!. It was probably due the Stella game was discontinued.

Even as v2.3.0 update, Red and Chuck are now permanent playable birds. Dahlia was a limited time bird at that time.

Before the v2.3.0 update, the limited time birds have their respective feathers. As of the said update, all of their feathers are now as of one- golden feathers.
In version 2.15, daily tasks were added. However, in this update, during the level gameplay, player may activate the bird boost instantly with coins on x3 to x5 streak.
In v2.11.2 mobile update, UI menus have changed.
The Hatchlings introduced in v2.12.0 was to promote the upcoming The Angry Birds Movie.
The Blues were available on the June 23, 2016 for the second time as a part of summer treats for a limited time.
This is the second time the Hatchlings appear as the guest star twice. When the Hatchlings was first introduced, the player has to collect treats for a reward. In the second appearance of the Hatchlings, the player has to complete 3 daily tasks the same manner as Terence's Tasks to earn one part of the movie poster and a booster. Collect all 4 parts to complete a poster.
In v2.26 update, the Phantom limited time bird was mainly recycled from Red with Halloween costume and modification to the special pop.
Willow's Theme remain despite her being removed from the game.
Facebook
In v1.3.0 Facebook update, Time Limited Birds were added.
On Facebook v 1.10.1, daily tasks were added, alongside with the movie posters. It was given 14 days instead of 30 in mobile.
Some of the level numbers shown on the map was cut-off by the objects overlapping on it.
Shakira Bird is still on the map however, she does not animate.
Discontinuation
On September 17, 2016, it was announced that the game on Facebook will be officially discontinued to continue with the mobile version of Angry Birds POP!. This game on Facebook will be closing on December 21, 2016.It was extended to January 2, 2017 stated on the Facebook page.
Gallery
For this subject's image gallery, see Angry Birds POP!/Image Gallery.
Videos
Soundtrack
For the soundtrack version, see Angry Birds POP! Soundtrack.
Unused Content
For unused content, see Angry Birds POP! Unused Content.
External Links
https://www.facebook.com/angrybirdspop/?fref=ts (Official Facebook app page)
Ad blocker interference detected!
Wikia is a free-to-use site that makes money from advertising. We have a modified experience for viewers using ad blockers

Wikia is not accessible if you've made further modifications. Remove the custom ad blocker rule(s) and the page will load as expected.