This is a list of boosters for the Angry Birds POP! game and a video on how to use them.
Rainbow Bubble (Common Reward)
The Rainbow Bubble creates a match between all of the bubbles it touches. It is unlocked at level 10.
How to use
Mighty Eye Sight (Uncommon Reward)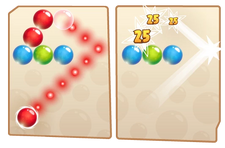 It makes the aiming line longer and also shows where exactly the bubble is going to land. It is unlocked at level 15.
How to use
Fireball (Rare reward)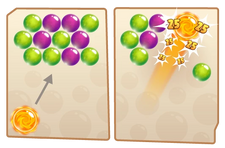 The Fireball goes through eight first objects it comes in contact with, even stone blockers. It is unlocked at level 20.
Crusher (Rare Reward)
The Crusher destroys all bubbles or blockers of single kind from the screen. It is unlocked at level 24.
Instant Bird Boost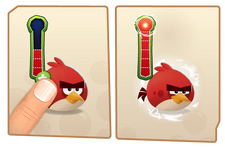 Allows instant activation on x3 to x5 streak. Cost: 7

How to use
Color Crush
Removed in version v2.19. Swaps into the color on the next bubble.
Free Boost
Free boost are rewarded with one of the random booster by watching an advertisement video.
Ad blocker interference detected!
Wikia is a free-to-use site that makes money from advertising. We have a modified experience for viewers using ad blockers

Wikia is not accessible if you've made further modifications. Remove the custom ad blocker rule(s) and the page will load as expected.