Ad blocker interference detected!
Wikia is a free-to-use site that makes money from advertising. We have a modified experience for viewers using ad blockers

Wikia is not accessible if you've made further modifications. Remove the custom ad blocker rule(s) and the page will load as expected.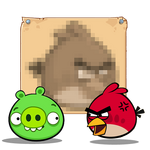 I can't tell what is this picture suppose to show.
Low Quality Image Found
One or more of the pictures on this article is very low quality. Help this page by uploading a better quality image here.
Here we will show you a complete list of achievements that appear in Angry Birds Rio and Angry Birds Rio Free.You can choose an other edition of Angry Birds achievements by clicking one of the editions in the board at the end of this page.
Image
Title
Requirements
Points

Breakout
All Smugglers' Den levels cleared
15

Jungle Fever
All Jungle Escape levels cleared
15

Warehousing Skills
3 stars in all Smugglers' Den levels
20

Smugglers' Den - Score Addict
Earn 2 370 000 points in total in Smugglers' Den
20

Master of the Jungle
3 stars in all Jungle Escape levels
20

Jungle Escape - Score Addict
Earn 2 580 000 points in total in Jungle Escape
20

Beach Life
All Beach Volley levels cleared
15

Beach Volley - Score Addict
Earn 3 310 000 points in total in Beach Volley
20

Samba!
All Carnival Upheaval levels cleared
15

Carnival Upheaval - Score Addict
Earn 2 850 000 points in total in Carnival Upheaval
20

Stellarvore
(Secret Achievement)
Earned 3 stars in all levels
20

Crate Hater
200 crates broken
10

Avian Liberator
700 cages broken
10

Free Bird
1 200 cages broken
10

No Cage Can Hold Me!
2 000 cages broken
10

Marmoset Terrorizer
500 marmosets hit
10

Marmoset Tormentor
1 500 marmosets hit
15

Marmoset Terminator
2 800 marmosets hit
20

Flower Power
100 flowers destroyed
10

A Star is Born
40 stars earned in total
10

Rising Star
100 stars earned in total
10

Clusterbirds
The Blues unlocked
10

Fast and Furious
Chuck unlocked
10

Explosive Temperament
The Bomb unlocked
10

Scrambled Eggs
Matilda unlocked
10

There and Back Again
Hal unlocked
10

Big is Beautiful
Terence unlocked
10

Pineapple Purist
All golden pineapples collected
15

Banana Fanatic
All golden bananas collected
15

Fruit Salad
(Secret Achievement)
Got one of each type of fruit
20

Enthusiastic Player
Played for 30 minutes
10

Dedicated Player
Played for 2 hours
10

Credit Where Credit is Due
Credits viewed from beginning to end
10

Gifted
Launched 5 birds without hitting any blocks
10

Friendly Fire
Hit a bird with another bird
10

Sniper
Made a direct hit on a marmoset
10

Lateral Thinker
3 birds launched backwards
10

Sharp Shooter
Completed a level with a single bird
15

Block Obliterator
10 000 blocks destroyed in total
20

Lights Out
10 lamps broken
10

Birds of the Feather
Blue and Jewel unlocked
10

Global Phenomenon
(Secret Achievement)
Bubbles unlocked
10

Half-a-Millionaire
500 000 points earned in total
10

6 Million Dollar Bird
(Secret Achievement)
6 000 000 points earned in total
15

Multi-Millionaire
(Secret Achievement)
17 500 000 points earned in total
20

Melon Mania
All golden melons collected
15

Star Performer
150 stars earned in total
10

Nicely Tanned!
3 stars earned in all Beach Volley levels
20

Super Star
215 stars earned in total
10

Aerophobia
Blu unlocked
10

Papaya Perfection
All golden papayas collected
15

Carnival King
3 stars earned in all Carnival Upheaval levels
20

Mega Star
280 stars earned in total
10

Apple Appreciation
All golden apples collected
15

Going Somewhere?
All Airfield Chase levels cleared
15

Airport Expert
3 stars earned in all Airfield Chase levels
20

Airfield Chase - Score Addict
Earn 3 084 000 points in total in Airfield Chase
20

Aquiline Benefactor
Mighty Eagle unlocked
10

Feather Picker
30 feathers earned in total
10

Feather Collector
60 feathers earned in total
20

Feather Gatherer
120 feathers earned in total
30

Victory!
(Secret Achievement)
Smuggler's Plane cleared
15
Blue Giant
(Secret Achievement)
310 stars earned in total
10
First Class
(Secret Achievement)
3 stars in all Smuggler's Plane levels
20

Smugglers' Plane - Score Addict
Earn 2 890 000 points in total in Smugglers' Plane
20

Mango Mastery
All golden mangos collected
15

Bonus Brilliance
3 stars earned in 15 bonus levels
1

Birds vs. Monkeys!
All Market Mayhem levels cleared
10

Golden Hour
All Golden Beachball levels cleared
10

Party Animals
All Rocket Rumble levels cleared
5

Make a Splash!
Complete the High Dive episode
5

Riverboat Captain
Clear all Blossom River levels
5

Timber Tumble
Clear all Timber Tumble levels
5
Note: These achievements along with the game is no longer available.
| Image | Title | Requirements | Points |
| --- | --- | --- | --- |
| | Warehousing Skills | Earn 3 stars in all the warehouse levels | 10 |
| | Jungle Fever | Earn 3 stars in all the jungle levels | 10 |
| | Nicely Tanned | Earn 3 stars in all the beach levels | 10 |
| | Samba | Earn 3 stars in all the carnival levels | 10 |
| | Crate Hater | 50 crates broken | 10 |
| | Avian Liberator | 50 birdcages smashed | 10 |
| | Marmoset Terrorizer | 50 marmosets hit | 10 |
| | Flower Power | 50 flowers destroyed | 10 |