Ad blocker interference detected!
Wikia is a free-to-use site that makes money from advertising. We have a modified experience for viewers using ad blockers

Wikia is not accessible if you've made further modifications. Remove the custom ad blocker rule(s) and the page will load as expected.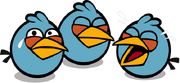 King Pig has stolen the Eggs, and there's no way to retrieve them, ever!
This article contains information about an abandoned object.
The content of the article or this section may have been scrapped during development from the game, characters, or other Angry Birds medias.
This page is a stub article
This article is a stub. You can help Angry Birds Wiki by expanding it and adding more information as soon as possible, then removing the stub tag.

Angry Birds Seasons Free is a free version of Angry Birds Seasons.
Notes
It has 3 levels for each of all 2011 episodes, except for Summer Pignic, and Mooncake Festival.
This can also be seen in other free versions of the AB games.
It should be noted that the Female Red Bird has a blue bow instead of yellow one. 
There are no Golden Eggs and there are no links to animations and/or trailers.
For unknown reasons, the game hasn't been updated in over 3 years.
The iPad version is called Angry Birds Seasons HD Free.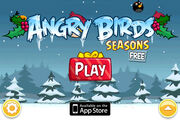 However, the game has been deleted from the App Store.