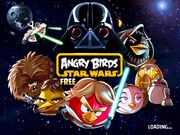 Angry Birds Star Wars Free
is a free version of
Angry Birds Star Wars
. It is only available on the App Store, and contians 4 levels from
Tatooine
, 4 levels from
Death Star
, and 4 levels from
Hoth
in the
Free
episode. It contains ads, like Android's full 
Angry Birds Star Wars
when you turn on cellular or connect to Wi-Fi. In order to remove ads, the player needs to switch to the full game.
In Angry Birds Star Wars Free, Mighty Falcons, Power-Ups, and Golden Droids are not available.
Ad blocker interference detected!
Wikia is a free-to-use site that makes money from advertising. We have a modified experience for viewers using ad blockers

Wikia is not accessible if you've made further modifications. Remove the custom ad blocker rule(s) and the page will load as expected.