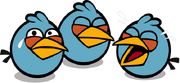 King Pig has stolen the Eggs, and there's no way to retrieve them, ever!
This article contains information about an abandoned object.
The content of the article may have been scrapped during development from the game, characters, or other Angry Birds medias.
Angry Birds Stella

Loading Screen
Info
Length (in levels):
120 normal levels, 9 Wall of Pigs levels, 2 Bonus levels, and Random levels (around the Golden Island)
Developer(s):
Publisher(s):
Rovio Entertainment
Rovio Entertainment
Released:
September 4, 2014
Platforms:
Android, iOS, Windows 8
Ratings:
ESRB: Everyone
Genre:
Puzzle
Version(s):
1.1.5 (Android and iOS)

Angry Birds Stella is the spin-off series of Angry Birds released on September 4, 2014.
The game features Stella in the starring role taking a vacation from her adventures with the Flock, traveling to Golden Island and visiting an assortment of characters created exclusively for the game, including four new playable Birds and improved visuals resembling the Angry Birds Toons shorts.
History
On December 30, 2013, the first teaser image shows in Rovio's "New Tricks" video.
The Angry Birds Stella was announced on February 12, 2014, Rovio posted a picture with silhouettes of some new characters. The next day, it was published new pictures, and announcements, which is became clear that this will be a new game with new characters.
On February 14, 2014, the developers announced Telepods for Angry Birds Stella.
Developers released concepts of new birds and their homes. The cinematic trailer was released on July 24, 2014. Also on this day, demo version of the game was presented at the international festival of San Diego Comic-Con International. They released a videos with meet the characters on August 2014 and the gameplay teaser was released on August 28, 2014.
The Angry Birds Stella animated series was released on October 25, 2014 for exclusive premiere and premiered on November 4, 2014.
The v1.1.1 update, New Pigs on the Block added the storyline that features Stella and her friends in their treehouse looking for their house's missing items that were stolen by the pigs and they must complete random levels to retrieve the items.
Rovio has partnered with Worldreader and Room to Read, two literacy charities, to produce a series of books featuring its Angry Birds Stella characters.
In 2015, they plan to release a comic book series based off the game. The comic was published by Le Lombard. The first volume was released in France on May 2015, the comic is also released in Dutch and German, it's unknown the comic will be released in English. Unfortunately, they abandoned the comic series. There are only two volumes of the comics.
Discontinuation
On July 13, 2015, it was announced that the game would be officially discontinued to continue with Angry Birds POP and the second season of the animated series.
As Stella was discontinued, there are some of game sprites are never made into the game and left them behind.
On October 18, 2016, The game was closed and removed from the app store. If you try to download the app by jailbreaking, You will get the notice and will redirect you to Angry Birds 2.
Press Info
Get ready for something new in the Angry Birds Universe! Meet Stella and her friends, a group of feisty characters with a shared love for fun, adventure, and creativity. The story of Stella swings the fans to parts of the Angry Birds world we've never seen before. Angry Birds Stella is all about inspiration, empowerment and other real issues, without forgetting entertainment and fun.
"Angry Birds Stella is breaking the mold by introducing strong, passionate characters who really stand for something, while adding plenty of action and reality into the mix," said Mikael Hed, CEO of Rovio Entertainment. "The Angry Birds Stella story will live and evolve physical and digital, bridging them in fun and innovative ways. Stella and her friends are here to stay, with plenty of adventures ahead of them."
Angry Birds Stella will bring fans a wide range of entertainment across multiple media, such as games, animation, toys, books, and other retail products for many years to come. Stay tuned for more details, including exciting products and partnerships lined up for the future.
Gameplay
Main Article: Album
Just like the original game of the series, players use a slingshot to shoot an assortment of birds to nearby structures, with an intent to pop all the green pigs that can be either near, in, or on the structures. Bird's abilities allows you to tap and hold for a certain amount of time. You can bounce off large drums and still use the birds' ability afterwards. The scrapbook allows you to access the characters and costumes you've unlocked.
The total number of stars you've accumulated is shown in the top left corner. Earning stars is important as the extra birds in your line-up are unlocked when you achieve a certain number. Without these extra birds you don't get your 10,000 point bonuses.
This game features Bird Coins that main purpose is to buy their accumulation characters. Also, the bird in the slingshot can be replaced using TelePods.
In the bonus levels, there are a lot of innovations. The main feature is the possibility of the player to choose a bird of the three prepositions. Like the Angry Birds Epic after passing a level necessary to turn the roulette wheel, where you can win coins and inventory items. The number of prizes is equal to the number of stars earned in a level. Also for getting stars on the bonus levels and inventory collection can earn experience. To achieve a certain level of experience opens up new inventory collection, pigs and boxes.

The Hammer power-up is first unlocked on Level 13. Press it at anything or any enemy to destroy that thing or enemy. After using it it takes a certain amount of pigs for it to recharge or you can spend coins and use it immediately.
There's a mini-game in the credits menu where you keep the pigs up in the air.
Episodes
There are two chapter in Angry Birds Stella.
Non Sequential: Random Levels (Levels around the Golden Island).
Scrapbook
Birds (Playable)
Villains
Boxes
Explosive Fruit Box (explode when broken)
Vortex Box (pulls all objects towards the center for a couple of seconds)
Box of Coins (explode and spreads around coins that can be collected)
Geyser Box (pushes all objects in the area up)
Pig in a Box (it's a pig hiding in a box)
Anti-Gravity Box (explodes and makes surrounding objects levitate for a couple of seconds)
Lost and Found
If you win a random level you can win useful items below:
| Name | Icon | Item Image | Reward | Description |
| --- | --- | --- | --- | --- |
| Trekking Gear | | | | More pig sightings on the map. |
| Luca's Toy Cars | | | | 10% more coins from pigs. |
| Lounge Carpets | | | | 5 coins more from large rewards in the Wheel of Fortune. |
| Willow's Espresso Machine | | | | 1% faster Hammer Refill. |
| Stella's Surfboard | | | | 2% faster Hammer Refill. |
| Stella's Skateboard | | | | 15% more coins from pigs. |
| Television | | | | 5 coins more from large rewards in the Wheel of Fortune. |
| Sofa | | | | 10 coins more from large rewards in the Wheel of Fortune. |
| Poppy's Gong | | | | 3% faster Hammer Refill. |
| Game Console | | | | 10 coins more from large rewards in the Wheel of Fortune. |
| Bicycle | | | | More pig sightings on the map. |
| Dahlia's Astronomy Set | | | | 15% more coins from pigs. |
| Luca's Toy Robot | | | | 4% faster Hammer Refill. |
| Pile of Pillows | | | | 5 coins more from small rewards in the Wheel of Fortune. |
| Willow's Painting | | | | 15% more coins from pigs. |
| Dahlia's Chemistry Set | | | | 4% faster Hammer Refill. |
| Poppy's Drums | | | | 20% more coins from pigs. |
Gallery
Main Article: Angry Birds Stella/Image Gallery
Soundtrack
For this game's soundtrack, see Angry Birds Stella Soundtrack.
Reception
The game has received generally mixed reviews with a Metacritic score of 67/100 based on 8 reviews. Pocket Gamer UK said, "It's Angry Birds. If you care about that any more then you'll probably find something to enjoy. Just watch out for the timers." Some reviewers have praised the game for its introduction of new characters and return to the original style of gameplay.
Angry Birds Stella POP
On December 25th, 2014, Rovio revealed Angry Birds Stella POP, indeed confirming Stella is a series.
On v1.8.0 update, the game changed its name from Angry Birds Stella POP to Angry Birds POP.
Trivia
Angry Birds Stella is the first main game in the series as a whole where the playable Birds are not given alternative names named after their color or an attribute to the character.
The following reasons of why Angry Birds Stella is a unique game.

There is only one returning playable Bird.
It is the only Angry Birds Game or Spinoff where Red does not appear directly.
It is the first Angry Bird Game to be directly aimed at a feminine audience.
It is the only game where the villain is female.
It is the only game where the flock has only 1 male member.
It is the only game where the main character is female.
It is one of the only games to have its own Comic-Con Panel.
It is the only game where the main villain does not appear in the final level.
This is the first game where the main villain is a bird, as well as the first depiction of infighting amongst the birds.
This is the only game where all of the birds sport unique eye colors, with none of them ever having black eyes (light blue, dark blue, green, brown, orange, and yellow). In fact, the only characters with black eyes are the pigs.

In the in-game files, the game is referred to as "Purple" and "PURPLE_BIRD" on multiple occasions, possibly referring to Gale.
Each of the birds abilities are similar to those from previous games.
This game used to have a Facebook glitch. You didn't have to connect Facebook to play the game or you couldn't play the game anymore. You had to uninstall the game and reinstall it. Makes you lose all progress because Rovio Account is not available in this game.
Some of Lost & Found items has references:

You can see Red and King Pig as Luca's toys, inside a car, referencing to Angry Birds Go!.
Red can also be seen as a logo on the Game Console, near the television.
The unused posters are referencing to:

Red's poster - Michael Jackson's Thriller
The Blues' poster - One Direction
Chuck's poster - ???
Matilda's poster - Daft Punk
Bomb's poster - The Notorious Big
References
Angry Birds Games
Major Titles

Core series
Side series
Spin-offs

Free Versions (iOS)
Web Apps
Closed Versions
Board Games
Arcade Games
Upcoming Games