This page is a stub article
This article is a stub. You can help Angry Birds Wiki by expanding it and adding more information as soon as possible, then removing the stub tag.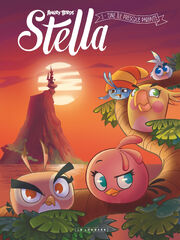 Angry Birds Stella is a comic series based of the Angry Birds spin-off series, Angry Birds Stella.
It was published by Le Lombard. The first volume was released in France on May 2015, the comic was also released in Czech, Dutch, Spanish, and German.
The second volume was released on April 2017 in France.
For unknown reason, the comic series was never release in English version.
Volumes
Volume 1
This section is in the need of expansion.
Volume 2
This section is in the need of expansion.
Gallery
External Links
Ad blocker interference detected!
Wikia is a free-to-use site that makes money from advertising. We have a modified experience for viewers using ad blockers

Wikia is not accessible if you've made further modifications. Remove the custom ad blocker rule(s) and the page will load as expected.