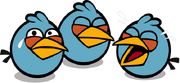 King Pig has stolen the Eggs, and there's no way to retrieve them, ever!
This article contains information about an abandoned object.
The content of the article may have been scrapped during development from the game, characters, or other Angry Birds medias.
These are the
track listings
of the discontinued game
Angry Birds Stella
, released by
Music Kickup
.
| Track # | Track Name | Length |
| --- | --- | --- |
| 1 | Angry Birds Stella Main Theme | 1:01 |
| 2 | Funky Porkcini | 1:17 |
| 3 | On Golden Island | 1:14 |
| 4 | Stella's Scat | 0:46 |
External links