The Angry Birds Transformers Comic-Con Trailer was released on July 24, 2014 during the 2014 San Diego Comic-Con. 
Plot
The story starts with a jet flying and we see two Minion Pigs looking at the jet, and as the jet back door opens, we see Red as Optimus Prime squealing his wheels, and starting up, but suddenly, the two Minion Pigs were shooting green lasers at him, so Red starts to dodge them. Then, he starts to stand up and run, as they shoot green lasers at him again. Suddenly, he starts to dodge them again, and shoot blue lasers at them. As he kills all three pigs, he breaks through the box, but suddenly, he looks at the world's biggest, and crankiest, yet evil, Minion Pig of them all! Then, he starts to look at Red and shoots yellow balls of fire on him, but Red dodges them, and shoots back. But nonetheless, Red is useless until Megatron is teleported to work together to beat the largest pig. They shoot at the largest pig, and suddenly, he is defeaten.
Characters
Trivia
Video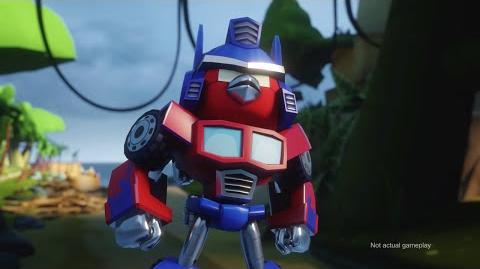 Gallery
 

Cinematic Specials and Meet the Flock

Angry Birds
Angry Birds Seasons
Angry Birds Rio
Angry Birds Space
Angry Birds Star Wars
Bad Piggies
Angry Birds Go!
Angry Birds Epic
Angry Birds Stella
Angry Birds Transformers
Angry Birds Toons
Ad blocker interference detected!
Wikia is a free-to-use site that makes money from advertising. We have a modified experience for viewers using ad blockers

Wikia is not accessible if you've made further modifications. Remove the custom ad blocker rule(s) and the page will load as expected.