Beak Impact 8-28 (Angry Birds Space)
Episode
Level Number
218
Birds Sequence
No. of Pigs
: x8
3-star Score
: 92,000 points
Previous
Next
Beak Impact 8-27
Beak Impact 8-29
Beak Impact 8-28 is the eighth level in the second part of Beak Impact. To pass this level, you must kill all pigs. Getting 92,000 points to earn three stars.
Difficulty
With only three birds, it can be hard to play in the first time.
Radioactive asteroids can finish most of pigs in the screen, but you have the Red bird as the first bird, this job can be very hard! Depend on luck to win.
Getting 3 stars in this level is not easy unless you know the correct strategy.
Strategy
Send Red Bird above the central planet but in the atmosphere. Gravitational field will pull the Red Bird to hit the battery in the middle. Win the level easily.
Walkthrough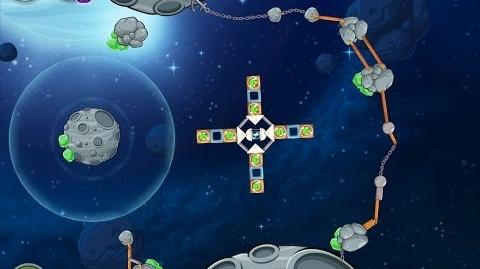 Angry Birds Space
Levels
Eggsteroids
Episode Key : Blue = Pig Bang; Cyan = Cold Cuts and Fry Me to the Moon; Pink = Utopia; Salmon = Red Planet; Lightgreen = Pig Dipper; Purple = Cosmic Crystals; RoyalBlue = Beak Impact