Beak Impact 8-9 (Angry Birds Space)
Comments

0
Beak Impact 8-9 (Angry Birds Space)
Episode
Level Number
199
Birds Sequence
No.of Pigs
x2 x1
3-star Score
53,000
Previous
Next
Beak Impact 8-8
Beak Impact 8-10
Beak Impact 8-9 is the ninth level in Beak Impact. To pass this level with 3 stars, you have to pop all pigs and getting 100,000 points.
New Things
Burning Asteroid: Like fiery asteroid in Red Planet, but it can trigger another asteroids.
Difficulty
Burning asteroids can make this level easier.
Three birds may be difficult for some to get three stars.
Strategy
Send the Super Red Bird towards the top or the bottom burning asteroid. With luck, it should cause chain reaction and clear all pigs.
Walkthrough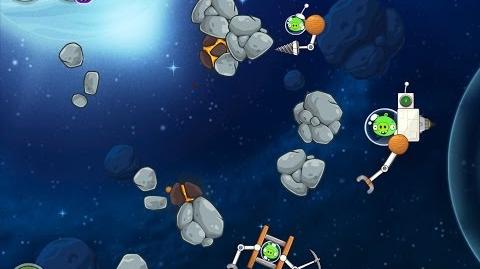 Angry Birds Space
Levels
Eggsteroids
Episode Key : Blue = Pig Bang; Cyan = Cold Cuts and Fry Me to the Moon; Pink = Utopia; Salmon = Red Planet; Lightgreen = Pig Dipper; Purple = Cosmic Crystals; RoyalBlue = Beak Impact