Bird Wear is the section of unlockable costumes in Angry Birds Seasons. Each wear could be unlocked by collecting 3 things, scattered around the levels.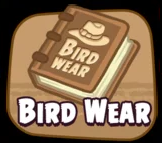 Red's Costumes
Blues' Costumes
Chuck's Costumes
Bomb's Costumes
Matilda's Costumes
Hal's Costumes
Terence's Costumes
Bubbles's Costumes
Stella's Costumes
Other Costumes
Marie Hamtoinette Update
Loch Ness Monster Terence (Coins)
Summer Camp Update
Shark Bomb Costume (Coins)
Sleeping Bag Stella Costume
Piggywood Studios Part 1 Update
(Unreleased) Bubbles Costume
Piggywood Studios Part 2 Update
Hammier Things Update
Ragnahog Update
Clothes Hanger Red
Hunter Red (Achievement)
Hat Chuck (Achievement)
Wizard Chuck
Leprechaun Blues
Christmas Blues
Hat Matilda (Achievement)
Gift Box Hal
Dragon Hal (Achievement)
Snowman Bubbles
Bottle Bubbles
Giant Horned Viking Stella
Cat Woman Stella (Achievement,Also unlocks all exclusives costume)
Ad blocker interference detected!
Wikia is a free-to-use site that makes money from advertising. We have a modified experience for viewers using ad blockers

Wikia is not accessible if you've made further modifications. Remove the custom ad blocker rule(s) and the page will load as expected.