Birdday Party
General Info
Release Date:
December 11, 2011 (Updated with new levels on the same day in 2012)
Levels:
30 levels

Episode No.:
7 for Classic
Previous Episode:
Mine and Dine
Next Episode:
Bad Piggies
Game(s):
Angry Birds
Birdday Party is the seventh Angry Birds episode. It celebrates the 2nd anniversary of Angry Birds  2011, the 3rd anniversary of Angry Birds 2012, and the 4th anniversary in Angry Birds 2013, taking place in a fantasy world filled with candy, birthday cakes, and other sweets, as opposed to the realistic environments seen in previous episodes. The episode itself serves as the eighteenth and nineteenth themes of the original game, and marks the 300th level mark with 18-15.
In this chapter, the Pigs steal the eggs as per usual, but decide to put them in a piece of the birds' Cake, which they snatch as well. 
New Birds
Theme 18

Theme 19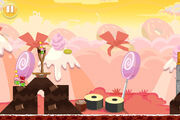 Trivia
This is the first theme in Angry Birds that is considered abnormal.
This is the first Angry Birds episode that involves an anniversary.
This episode had the fewest amount of levels in the game, with only 15, before the extra levels were added on December 11th, 2012.
The title is a reference to the saying "Birthday Party", when the birds are having their birthday party.

This is also considered the first of the episodes to have its pun-based title on a Bird, rather than a Pig, Eggs, or eating.

This is the first time the Bubbles the Orange Bird and Stella the Pink Bird appear in the original Angry Birds game. Stella, though, never had her sound effects from Angry Birds Seasons when she was updated in Classic. That issue was fixed in Version 3.1.0.
Updating this episode not only provided players with all the episodes that are now unlocked without having to clear the first episode, but all the cutscenes were updated to the design shown in the Google Chrome Verison of Angry Birds.
This episode was launched for the game's second anniversary.
This is the first Angry Birds episode that is based on food with the second being Utopia in Angry Birds Space.
On the final level, there is a rainbow-colored slice of cake. Getting it will display a new achievement called "Cakemonger".
This episode received an update on December 11, 2012, that shows 15 more levels, and chapter 19 is moved from Bad Piggies to this episode. Also, 15 more levels of the Bad Piggies episode have been added.
It is possible that in December 2013, they will have even more Birdday Party levels for Angry Bird's 4th anniversary and Theme 20 will also be from Bad Piggies to this episode.
This update shows the White Bird's and the Boomerang Bird's new sprites. It also shows the corpse sprites for the Birds from the Rio, Fuji TV and Chrome games. Also, the white spot on Bomb's forehead is removed.
Birdday Party was updated with 15 new levels to celebrate Angry Birds' 3rd anniversary in 2012. These new levels feature the Pink Bird (appearing for the first time in the original Angry Birds), changes in Birds' sprites, and new features like TNT Cakes. These levels have the number "19" for the theme number, so the Bad Piggies episode was renumbered accordingly. Also, there is a new hidden golden egg in level 19-14.  Also, the update now includes the shaking background when the Black Bird, the White Bird's eggs and TNT crates explode, and when the Orange Bird inflates. To extend the story, Birdday Party gets a new cutscene in 18-15, where the Birds defeat a Mustache Pig whose cover in cake crumbs and continue chasing after the Bad Piggies. So the ending cutscene has been moved to level 19-15.
Of all of the Classic episodes, the new birds from Seasons appear in this episode.
In world 19, Bubbles only appears in 19-3.
With V. 3.1.0, Stella has her voice and sound effects from Angry Birds Seasons fixed in Angry Birds Classic.
This is the second episode to have background music with the first being Mine and Dine.
It is unknown why birds would eat cake, since cake needs eggs as an ingreidient for cake. although it could be a vegan recipe
Sources
http://www.rovio.com/en/news/blog/109/happy-birdday http://www.angrybirdsnest.com/angry-birds-happy-birdday-update-coming-december-11th/