Birdday Party 18-11 (or Birdday Party Cake 2 Level 11) is the eleventh level of the second cake in Birdday Party.
Strategy
Launch Big Brother into the bottom-left stone block in the top-right structure. The direct hit should cause a lot of damage, but when Big Brother falls, he should also take out all pigs in the bottom-right of the level after bouncing off the rubber. To finish the level, lob the Black bird so it lands between the left-most structure and the encased TNT. Of course, you'll get better score if the Black bird hits the TNT.
Video Walkthrough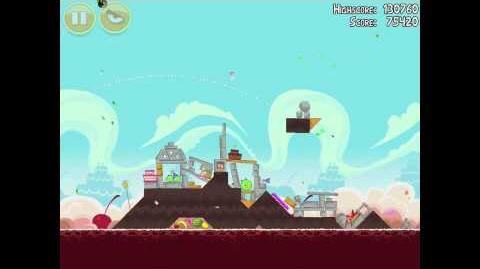 Ad blocker interference detected!
Wikia is a free-to-use site that makes money from advertising. We have a modified experience for viewers using ad blockers

Wikia is not accessible if you've made further modifications. Remove the custom ad blocker rule(s) and the page will load as expected.