Birdday Party 18-13 (or Birdday Party Cake 2 Level 13) is the thirteenth level in Cake 2 of Birdday Party.
Strategy
Lob the Orange bird so it lands in the gap between the two far-right pigs. Its expansion should clear the entire right side of the level. Since the far-left pig is popped in the video, a direct shot to the only remaining pig is sufficient. Otherwise, arc the Boomerang bird over the first tower and loop around to push it to the left, clearing both pigs.
Video Walkthrough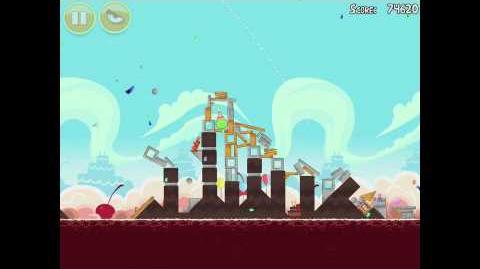 Ad blocker interference detected!
Wikia is a free-to-use site that makes money from advertising. We have a modified experience for viewers using ad blockers

Wikia is not accessible if you've made further modifications. Remove the custom ad blocker rule(s) and the page will load as expected.