Birdday Party 19-11 (or Birdday Party Cake 3 Level 11) is the eleventh level of Cake 3 in Birdday Party.
Difficulty
It's not difficult to complete this level with the help of the upper TNT. But you need lucky to get high scores.
Strategy
Toss the White bird over the main structure, bombing near the stone bridge and breaking the triangular support of the left TNT (the upper TNT). If you're lucky, this TNT will create a huge explosion and topple the whole level. If you're not lucky, loft the Pink bird between the two structures, using her bubbles to clear the remaining pigs.
Video Walkthrough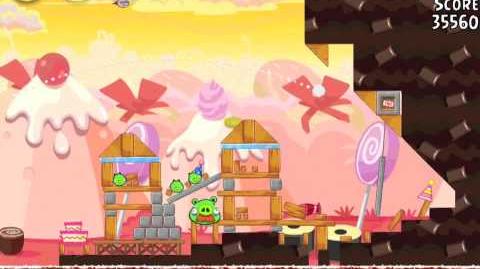 Ad blocker interference detected!
Wikia is a free-to-use site that makes money from advertising. We have a modified experience for viewers using ad blockers

Wikia is not accessible if you've made further modifications. Remove the custom ad blocker rule(s) and the page will load as expected.