Birdday Party 19-6 (or Birdday Party Cake 3 Level 6) is the sixth level of the third cake (Theme 19) in Birdday Party.
Strategy
Strategy #1
Loft the first Blue bird over the leftmost tower and into the second tower. This should cause both TNT cakes to expand, clearing the pigs on the left side. Fling another Blue and one Pink bird straight ahead to clear what remains. Make sure you tally up those precious damage points!
Strategy #2
Shoot the first Blue Bird to the first ice structure. Destroy as much ice as you can and remember to detonate the black TNT cake (popcorn cake). The frosting iceballs (white popcorn or something) will give you many bonus points for the next Blue Bird as you must fling the second bird down to the brown cake. Remember to destroy the frosting for bonus and the most important thing is to attack under the middle structure. Loft the Pink Bird to the right structure and blow the bubbles there to pop the remaining pig at the right.
Video Walkthrough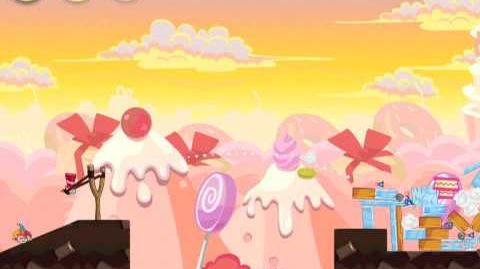 Ad blocker interference detected!
Wikia is a free-to-use site that makes money from advertising. We have a modified experience for viewers using ad blockers

Wikia is not accessible if you've made further modifications. Remove the custom ad blocker rule(s) and the page will load as expected.