Birdday Party Cake 4 Level 13
Episode
Level Number
331
Birds Sequence
No. of Pigs
: x5 : x4
3-star Score
: 125,000 points
Previous
Next
Cake 4 Level 12
Cake 4 Level 14
Birdday Party Cake 4 Level 13 is the thirteenth level of Cake 4 in Birdday Party.
Strategy
There is only one strategy for this level. You just need to arc a Yellow bird into the wooden base of the right structure. This is a small window, but worthwhile. Falling debris can break through the ice blocks (if you want high scores, you must break these ice blocks with your bird before the right structure's debris so that the right structure can fall "nicely") and blast the TNT below.
Video Walkthrough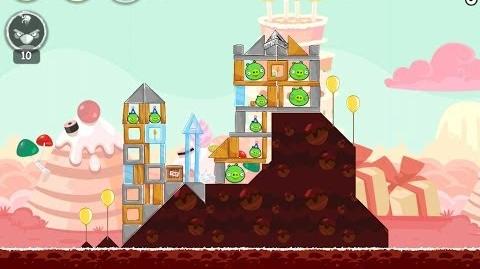 Ad blocker interference detected!
Wikia is a free-to-use site that makes money from advertising. We have a modified experience for viewers using ad blockers

Wikia is not accessible if you've made further modifications. Remove the custom ad blocker rule(s) and the page will load as expected.