Birdday Party Cake 4 Level 15
Episode
Level Number
333
Birds Sequence
No. of Pigs
: x1 : x6
: x1
3-star Score
: 140,000 points
Previous
Next
Cake 4 Level 14
Bad Piggies 21-1
Birdday Party Cake 4 Level 15 is the final level of Cake 4 in Birdday Party.
Strategy
Split the Blue bird so the highest bird breaks through the base of the left tower while the lowest continues into the TNT cake below. Since the left half of the level will now be clear, drop the right tower with the next Blue bird. If you're really lucky, the right tower will be fall slowly but whatever it falls, mostly time, the bottom Small Pig in the structure will still alive, so you need to try many times to get it.
Video Walkthroughs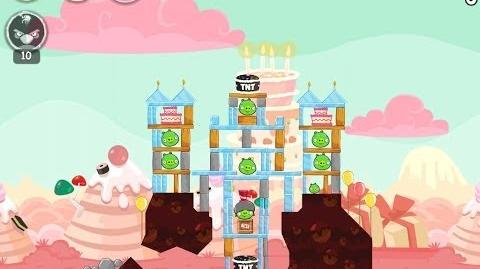 Ad blocker interference detected!
Wikia is a free-to-use site that makes money from advertising. We have a modified experience for viewers using ad blockers

Wikia is not accessible if you've made further modifications. Remove the custom ad blocker rule(s) and the page will load as expected.