Cosmic Crystals 7-10 is the tenth level in Cosmic Crystals.The objective of level 7-10 is to use the birds to eliminate all the pigs. Get at least 65,000 points for 3 stars.
Difficulty
The leftmost pig can be tricky for some. But with 5 birds and 65,000 points for three stars, this level is easy to three stars.
Strategy
Send Red Bird upper to destroy the north planet. This can be done by hitting the TNT directly after passing through the northernmost pig, or by directly attacking the planet and hoping debris pops. Send the Lazer bird south and target the TNT.
Walkthrough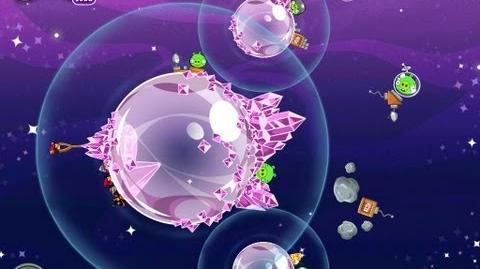 Angry Birds Space
Levels
Eggsteroids
Episode Key : Blue = Pig Bang; Cyan = Cold Cuts and Fry Me to the Moon; Pink = Utopia; Salmon = Red Planet; Lightgreen = Pig Dipper; Purple = Cosmic Crystals; RoyalBlue = Beak Impact