Cosmic Crystals 7-22 is the twenty-second level in Cosmic Crystals.The objective of level 7-22 is to use the birds to eliminate all the pigs. Get at least 70,000 points for 3 stars.
Difficulty
The main fortress is a bit tricky to destroy because TNT is in the middle.
Strategy
Send Ice Bird to blast the TNT at the far east. Send the Red Bird straight ahead to topple the structure onto the TNT within.
Trivia
This level and 7-24 are the only levels to have the Ice Bird in Cosmic Crystals.
Walkthrough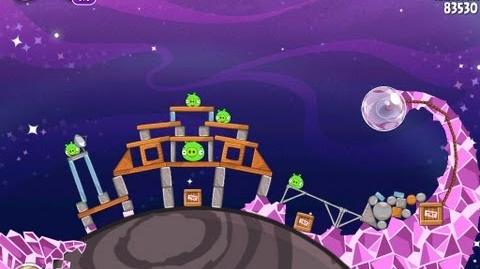 Angry Birds Space
Levels
Eggsteroids
Episode Key : Blue = Pig Bang; Cyan = Cold Cuts and Fry Me to the Moon; Pink = Utopia; Salmon = Red Planet; Lightgreen = Pig Dipper; Purple = Cosmic Crystals; RoyalBlue = Beak Impact