Cosmic Crystals 7-8 is the eighth level in Cosmic Crystals. The objective of level 7-8 is to use the birds to eliminate all the pigs. Get at least 115,000 points for 3 stars.
Difficulty
This level needs chain reaction for three stars, so you should know the correct spot for chain reaction.
Strategy
Break the northwestern planet, either directly with the Red Bird or by deflecting the nearby asteroid. The domino effect should clear the north half of the level. Launch the second bird toward the gem at the far south. Red Bird should deflect through the small nearby planet, eliminating its gravitational field and pulling asteroids onto pigs and you get 10,000 points for one unused bird.
Walkthrough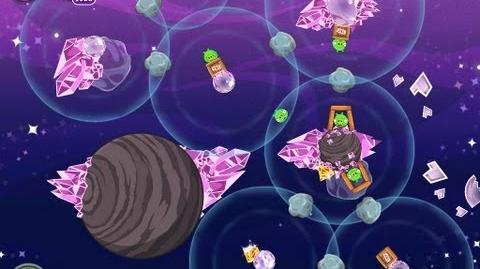 Angry Birds Space
Levels
Eggsteroids
Episode Key : Blue = Pig Bang; Cyan = Cold Cuts and Fry Me to the Moon; Pink = Utopia; Salmon = Red Planet; Lightgreen = Pig Dipper; Purple = Cosmic Crystals; RoyalBlue = Beak Impact
Ad blocker interference detected!
Wikia is a free-to-use site that makes money from advertising. We have a modified experience for viewers using ad blockers

Wikia is not accessible if you've made further modifications. Remove the custom ad blocker rule(s) and the page will load as expected.