Danger Above 6-2
Episode
Level Number
107
Birds Sequence
No. of Pigs
: x1 : x1 : x2
3-star Score
: 72,000 points
Previous
Next
Danger Above 6-1
Danger Above 6-3
Danger Above 6-2 is the second level of Danger Above.
Strategy
Launch the Red Bird into the bottom stone pillar. This should bend the fort. Now, launch a Yellow Bird at the center wood. The fort should topple over. If done correctly, the entire fort should kill all the pigs, with the TNT finishing anyone else.
Video Walkthroughs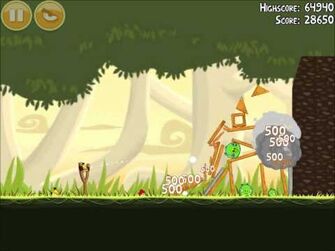 Ad blocker interference detected!
Wikia is a free-to-use site that makes money from advertising. We have a modified experience for viewers using ad blockers

Wikia is not accessible if you've made further modifications. Remove the custom ad blocker rule(s) and the page will load as expected.