Danger Zone D-18 (Angry Birds Space)
Comments

0
Danger Zone D-18 (Angry Birds Space)
Episode
Level Number
18
Birds Sequence
No.of Pigs
x8 x2
3-star Score
: 135,000 points
Previous
Next
Danger Zone D-17
Danger Zone D-19
Danger Zone D-18 is the seventeenth level in Danger Zone. The objective of level D-18 is to use the birds to eliminate all the pigs. Get at least 135,000 points for 3 stars.
Difficulty
This level is not hard, but a bit hard for three stars.
Strategy
Send Black Bird along the southern and detonate when he reaches the structure. Send Terence along like the first shot. Only further from the planet. The goal is to pass through the bubbled pig and into the top structure. With a little luck, either Terence, the asteroid, or debris will reach the TNT on another side of the planet and demolish the remaining pigs.
Walkthrough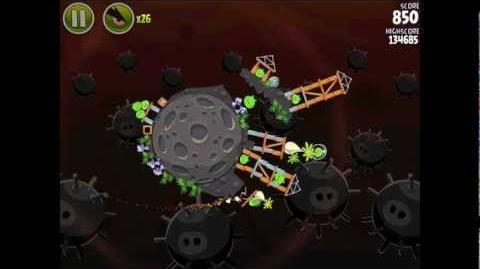 Angry Birds Space
Levels
Eggsteroids
Episode Key : Blue = Pig Bang; Cyan = Cold Cuts and Fry Me to the Moon; Pink = Utopia; Salmon = Red Planet; Lightgreen = Pig Dipper; Purple = Cosmic Crystals; RoyalBlue = Beak Impact